---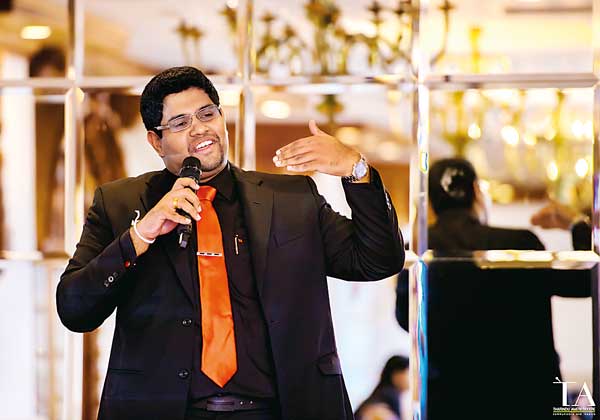 "Simply Brilliant", "We got what we came for", "Excellently delivered" "Worth the time and money". These were a few of the sentiments shared after the Dream Believe Conquer 2016 motivation and empowerment programme conducted by internationally recognized
public speaking champion Tharindu Ameresekere.

An evening of empowerment was taken to the next level in unlocking inner potential of the participants where Tharindu delivered the essence of reaching the next level of success and growth for the participants. What was unique is that not only did Tharindu deliver stories and examples with his own experiences, but he also had his own theories and techniques developed which was shared with the audience. Some of them included the Dream Team concept as well as the Dream Grid (inspiration to dream more) and some of his own quotes which mesmerized the audience such as "FAIL does not mean Fooled Again In Life but rather Fight Again In Life".

Tharindu also recognized his own Dream Team a.k.a, the three individuals with whom he first shared this idea and who encouraged him to conduct this event, namely Jehan Mubarak, Pasan Kumarasinghe and Arosh Ediriweera. All three are friends Tharindu met through the Round Table Sri Lanka movement.

Participants also received a card titled the Empowerment Cycle which had two quotes of empowerment and requested the audience to give it to people they know that require empowerment. Thereafter each recipient was requested to pass it on after two days to someone else thereby creating a cycle of empowerment.

The event got off to a roaring start with a keynote speech from celebrity award winning CEO Dr. Kishu Gomes, who is also Managing Director of Chevron Lubricants Sri Lanka. He spoke on the importance of empowerment motivation for the country and the mindset needed to take Sri Lanka to the next level.

Commenting on his inaugural event Tharindu noted, "This is just the start. There are many more new initiatives coming up which excites me highly and the next focus is the launch of my book on self-empowerment which I have been working on for several years."