---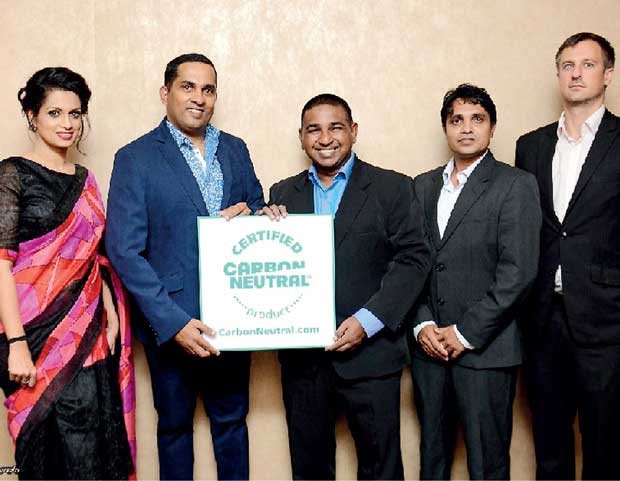 From left: Teejay DGM CorpCom and CSR Samadhi Weerakoon, Teejay Chief Operating Officer Marketing and Business Development Rodney Arland receive the green certificate from Carbon Consulting Company CEO Sanith de Silva Wijeyeratne, Senior Technical Advisor Dr. Sampath Wahala and CCC Consultant Nick Bollons
Teejay, South Asia's leading fabric manufacturer, has taken the lead in producing green fabric for some of its key customers. The company, which was named amongst the 2016 Forbes list of Asia's Top 200 Companies under a Billion US dollars, announced its new identity last month and the sustainability initiative is one of the long-term goals under Teejay's new direction.
This green initiative is an initial step by Teejay, which wants to drive the sustainability agenda in all aspects of its business. The company has entered into a partnership with The Carbon Consulting Company (CCC) to calculate the product carbon footprint of a selected range of its fabrics.
CCC, which has calculated the emissions of a selected range of Teejay's fabrics, has been able to completely offset the carbon emissions associated with its production through its partner, Natural Capital Partners (NCP), UK, world's Best Offset Retailer for six years running.
For the present, Teejay has brought together one of the leading apparel groups in the island and its client UK's Marks & Spencer (M&S) to quantify, measure and offset carbon emissions associated with a garment produced using a CarbonNeutral fabric from Teejay's Spring/Summer 2017 collection.
Employing both local expertise and international standards, Teejay and M&S are working together to refine the calculations and aim to complete the work in time for the up and coming product lines for its spring/summer 2017 season.
Teejay COO Marketing Rodney Arland said, "Sustainability is a key pillar on which we build our strategy and this revolutionary new product is yet another demonstration of our leadership in this arena. We are proud to work with these global partners to make the world a greener place."
Having already developed an outline carbon footprint for one of its garments - including the fabric and raw materials, production and transportation process, i.e. to the end of Teejay's responsibility in the supply chain (called a 'cradle to gate' assessment) - Teejay is now working with CCC and M&S to extend this initiative to encompass the retail, consumer use and disposal phase of the garment, otherwise known as a full 'Life Cycle Assessment'.
Teejay has already secured through CCC a sizable stock of carbon credits from NCP and this stock of credits will then be retired against the production runs of the garment.
CCC CEO Sanith de Silva Wijeyeratne said that the steps taken by Teejay to create a CarbonNeutral product are creditable. He said, "This is the first time such a product is developed in this region and all credit goes to the Teejay team for conceptualizing it and the level of coordination they have managed to achieve."
Arland commended CCC for its support and expertise, which helped them create the product sooner than expected. CCC, which has a team of qualified professionals with global expertise, has received several accolades for its outstanding work in the field. Its work is guided by highly reputed environmental and sustainability professional, Senior External Technical Advisor Dr. Sampath Wahala from the Sabaragamuwa University.
Teejay COO Marketing said the next phase of the project is to work more closely with M&S to better understand and calculate the retail, distribution and consumer use and disposal phases of the garment (i.e. domestic washing and recycling patterns).
Over the next months the partners will liaise closely with M&S to ensure that the balance calculations are carried out in a manner that is in line with the brand's sustainability standards. He added that plans have already been drawn to work with a leading US retailer in the new year.
Currently Teejay is in talks with a number of top international brands which have expressed interest in the product in order to reach their long-term goal of driving the green initiative across their supply chain. CCC will work with them through Teejay to calculate emissions up to the production of the garment, covering the end use state, i.e. the ultimate user of the product.