---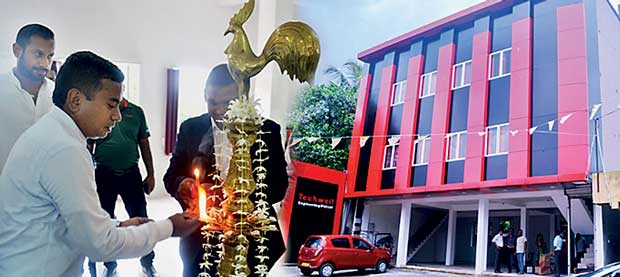 Techwell Engineering (Pvt.) Limited Managing Director Sumith Nandana ceremonially opening the new business complex of the company in Makola
Techwell Engineering (Pvt.) Limited, a leading reputed manufacturer, sales and services provider in the sphere of electronic engineering in Sri Lanka, relocated to a new business premises recently. Techwell Engineering is now situated in an easily accessible, spacious modern complex at No. 177/6, Makola South, Makola.
Commenting on shifting the company to a new business location, Techwell Engineering (Pvt.) Limited Managing Director Sumith Nandana said, "It is with the core objective of offering our clients better facilities and an enhanced, superior service that we moved into a new complex. Our staff needed a more spacious premises equipped with modern facilities to ensure an efficient and expeditious service to our loyal customers. It is, therefore, for the convenience of our customers and staff that we moved into a new business premises."
Launched in the year 2010, Techwell Engineering (Pvt.) Limited now plays a pivotal role in offering a range of products and services in the sphere of electronic engineering. Amongst the products and services Techwell Engineering offers to clients are UPS, galvanic isolation transformers, stabilizer and AVR, inverter, battery, data cabling infrastructure services, IP surveillance system using IP camera CCTV systems, PA system, door access control and fingerprint system, 19'' equipment racks and accessories, electrical installation, electrical panel boards, cable management system, lightning and surge protection systems.
With a full range of UPS, power and data networking, power generators, electronics repairing, switchgear, software, security monitoring, power distribution and on-site services to support a complete data environment from PC to data centre, the company is a dedicated 'one-stop-shop' for all electronic engineering products and services.
The experienced Techwell Engineering team understands individual business needs of clients and offer them solutions that match every specific requirement. The customer is the focal point for the company, which, as an independent solutions provider, aims to offer the best solutions to meet the increasingly demanding needs of our data-driven economic environment.
Techwell Engineering (Pvt.) Limited does not believe in merely selling and forgetting about it later. That is why all products and services offered by the company are accompanied by a dependable after-sales service.