---
Tea veteran and Dilmah Tea founder Merrill J. Fernando yesterday reiterated that the Sri Lanka's tea export sector is in need of disciplining and stringent quality checks.

Referring to the untapped potential in the country's tea industry, Fernando said more emphasis is required on value addition and pointed out that it is an avenue Sri Lanka can take advantage of to boost its foreign exchange earnings.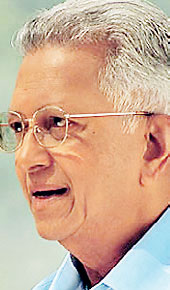 "Continuing to export as raw materials, such as bulk tea is of no worth to us. We lose millions this way while it could be retained in the country. Do what Dilmah is doing, that is add value to tea," the industry leader told the export community at the Presidential Exports Awards, yesterday.

He added that with Sri Lanka being an "excellent" supplier, it should take measures to protect itself from being "exploited".

"Others are exploiting us by importing our fine tea in bulk, value adding it and rebranding. We can do the same and earn much higher," stressed Fernando. The tea veteran, who has been successful in branding Ceylon Tea as an ethical product, assured that diverting the focus towards value addition would help streamline tea exports in the next two to three years.

Furthermore he stressed the need for strict guidelines and monitoring with regard to quality of teas exported.

"The discipline must be done greatly for the quality, an element Ceylon Tea should be known for. Consumers around the world know that Ceylon Tea is the finest; we need to make use of that; consumer perception is very important," said Fernando while sharing his success story.
He elaborated that along with quality consistency, emphasis is needed on proper branding and promotion efforts in creating wealth.

"We need to have all the necessary elements in place to ensure that consumers have the confidence in our brand, which is to control quality and freshness to ensure we have a premium product. Only then will we earn what we are worth for every kilo we supply, and that will help the country," professed Fernando.
(SAA)