---
By Shabiya Ali Ahlam
As Sri Lanka continues to struggle in improving its dairy industry, the leading global milk processor, Fonterra, stressed tax hikes on milk imports are not the way forward to boost the local capacity as such moves would eventually lead to a scarcity of milk and milk-based products, given the growing demand.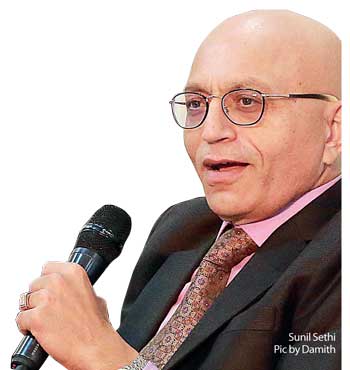 "It is not the way to go about it. We will be happy if we can source every drop of milk from this country. But currently we (local sourcing) can meet only 30 percent of the demand. But by curbing imports, we will run out of milk. Needed is an end-to-end solution to grow the local dairy industry," Fonterra Brands Sri Lanka and Indian Subcontinent Managing Director Sunil Sethi told a forum in Colombo yesterday.
While acknowledging that the local dairy industry presents a significant opportunity to improve the nutrition levels and strengthens the national economy, Sethi said Fonterra Brands Lanka would continue with its imports.
"Like it or not, imports are here to stay. And we prefer if it stayed till we are able to develop our local dairy industry to fulfil our demand," Sethi added.
The government removed the value-added tax (VAT) exemption on import and supply of milk powder from January 1, 2017 and also slapped 15 percent VAT on the locally produced milk.
The current local dairy supply only meets 30 percent of the demand, leading to the importation of 80,000 metric tonnes per year on average. The demand for dairy in Sri Lanka is estimated to be expanding by 13 percent per annum.
The issues faced by the Lankan dairy industry include lack of farm-business knowledge, expanding costs of farming inputs, limited availability of land and high-quality cattle.
Sri Lanka has about 30,000 small-scale dairy farmers, who produce about 80 percent of the local milk supply.
In an effort to uplift the sector, Fonterra has committed an investment of Rs.10 billion for a 10-year local dairy industry development plan. Already in the third year of the programmer, the global giant said it has already spent Rs.2 billion over the last two years.
Having conducted the pilot projects with the farmers, Fonterra has been successful in increasing the income of farmers by 40 percent and productivity by 50 percent. "We acknowledge Sri Lanka; its environment is not similar to New Zealand, but we will bring in best practices and tweak it to best suit the local context," said Sethi.