---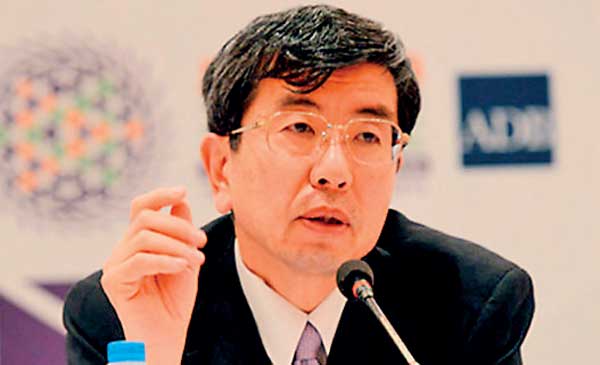 Asian Development Bank (ADB) President Takehiko Nakao expressed his intention to stand for re-election as President for the next 5-year term, after the current term ends on 23 November 2016. ADB Presidents are nominated from ADB's regional members for a 5-year term, and elected by the ADB Board of Governors.
"While developing Asia has achieved a lot in terms of economic development and poverty reduction, as many as 450 million people are still in extreme poverty. Gender equality should be enhanced. Climate actions continue to be an urgent priority. The private sector should be further developed. More effective regional cooperation is needed," Nakao said. "If reelected, I will continue to make utmost efforts to tackle the remaining and new challenges of our developing member countries in the Asia and Pacific region."
Nakao was first elected as President by the Board of Governors on 28 April 2013 to serve the 3 and a half years remaining of the term of his predecessor, Haruhiko Kuroda. During his presidency, ADB has realigned its strategic priorities through the Midterm Review of Strategy 2020 and increased its lending capacity from $13 billion in 2014 to $20 billion by 2020 through the merger of Asian Development Fund operations with the Ordinary Capital Resources balance sheet.
The scaling up of its operations has already made good progress. Last year, ADB's loan and grant approvals reached a record $16.3 billion, including private sector operations of $2.6 billion, which is also a record high. In order to serve client countries better, ADB has implemented institutional reforms including delegating more authority to resident missions, streamlining procurement and other procedures, establishing the Office of Public- Private Partnership, and strengthening sector and thematic expertise.
ADB, based in Manila, is dedicated to reducing poverty in Asia and the Pacific through inclusive economic growth, environmentally sustainable growth, and regional integration. Established in 1966, it is owned by 67 members—48 from the region.