---
The Hotel Association of Sri Lanka (THASL) welcomes government's latest tax bonanza and commends it for implementing election pledges speedily.

THASL in a statement said that tax cuts are the right measures to boost the economy and increase investment.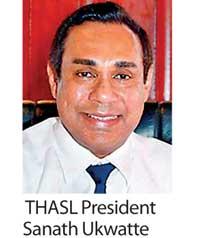 "This is long overdue and hugely positive, measures which the industry has been lobbying actively for in the past years. This will not only simplify the tax structure but it will promote investment and help create more jobs.

"We urge the Government to maintain this tax structure uninterrupted for a minimum period of 5 years so that the institutions and businesses can accomplish their plans. This will bring stability to the economy and boost growth in the economy," the statement said.

"We thank the government for recognizing the tourism industry as an export industry and for eliminating NBT and bringing down the VAT in line with the export industry. This will help the industry to compete with other regional countries. This is a highly favorable environment for businesses to grow.

"In addition to the diversity of tax cuts such as elimination of PAYE, increasing the VAT threshold, elimination of VAT on apartment sales, elimination of economic service charge, elimination of income tax on foreign currency earning and bringing down the tax in the construction field will boost economic growth in the years to come.
"These are bold moves in the right direction. We were always told that the reductions of taxes to this extent could never be done. It is happening now and this will change the country's economy.

"We applaud the President, Prime Minister and the government to continue on course to make the tax system simpler and competitive and urge the government to maintain the new reforms for a minimum period of five years."