---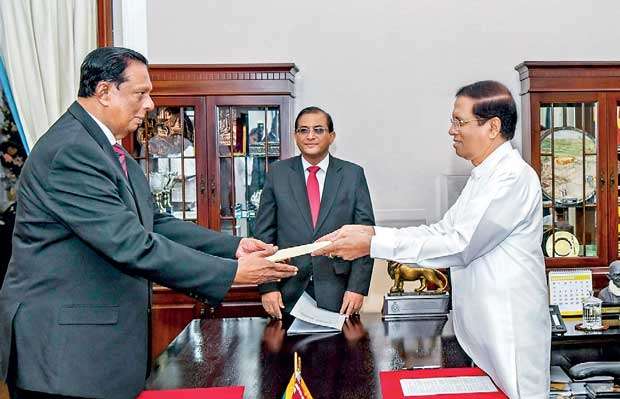 John Amaratunga receiving his appointment letter from the President
Says will continue to push for export status for tourism industry
Urge authorities to smoothen arrival and departure facilities for tourists
While congratulating the United National Party MP John Amaratunga on his appointment as the Tourism, Wildlife and Christian Religious Affairs Minister, The Hotels Association of Sri Lanka (THASL) yesterday endorsed the combining of wildlife with tourism as a timely initiative for the hospitality and tourism industry.
"Today, safari parks are most sought after places visited by tourists, and over-visitation of parks is a challenge for the industry. We commend this as a timely and appropriate step," THASL said in a media statement.

THASL said it is looking forward to working with the newly appointed Cabinet of Ministers to achieve continued and sustainable economic growth and development of the tourism Industry. THASL has been strongly lobbying for export status for the country's tourism industry.

Tourism is at present the second highest net foreign exchange earner to the country and provides employment to over 350,000, both direct and indirectly.

THASL hopes the government will take appropriate action to boost the industry by granting export status as a matter of urgency to restore confidence among a large number of investors who have held back due to the recent political turmoil.

The country now has over 32,000 star-class hotels, and is expected to grow by a further 6, 500 rooms with a total investment of US $ 12 billion by 2020.
This is by far the highest investment any single sector has made in the country. Net earnings have exceeded the US $ 3.5 billion mark already this year.
With the planned global market campaign to be launched in March next year, together with worldwide publicity received for Lonely Planet endorsement as a top destination to visit in 2019, Sri Lanka's tourism industry is poised to have a successful year in 2019.

"Our biggest challenge is to have smooth arrival and departure facilities and services at the main airport for the significantly increased arrivals. We hope the relevant authorities take urgent action to improve these services," THASL statement said.

THASL said its members and other tourism stakeholder had a close working relationship with the Tourism Ministry over the past 3 ½ years and applauded Minister Amaratunga for all the support and encouragement given.

"He worked tirelessly for the betterment of the industry and stood up for the industry at all times. We have every confidence that he will be equally enthusiastic in working with us in the interest of our Industry," THASL said.