---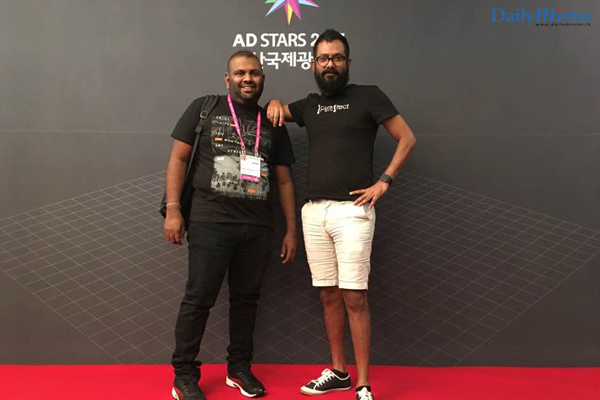 Mithila Silva & Subhash Pinnapola
TBWA\Sri Lanka continued its winning streak and was once again the only agency to be awarded metal at the prestigious AD STARS 2017 annual advertising festival, which took place in Busan, Korea recently. TBWA\Sri Lanka, recognized with 1 Silver and 5 Bronze awards placed Sri Lanka on the global map, competing against 18,063 entries from 61 countries; 1,680 finalists from 42 countries and 196 jurors from 67 countries.
The awards were won for the "After life" campaign, created for a leading newspaper in Sri Lanka to promote recycling even the most tiniest piece of paper and "I have a beautiful heart" film to generate funding for the Little Hearts Project to build a much needed facility in Sri Lanka for children with heart disease and other critical illnesses. It is noteworthy that the "Afterlife" campaign has been consistently recognized at international awards festivals.
"We are extremely honored to be recognized at AD STARS and proud to be the only Sri Lankan agency to showcase Sri Lanka's creativity in the global arena by being awarded metal. My heartiest congratulations to the teams behind the work as well as appreciation to our business partners for their confidence", stated Renuka Marshall, Managing Director, TBWA\Sri Lanka.
Subhash Pinnapola, Chief Creative Officer of TBWA\Sri Lanka commented, "the Little Hearts project is very close to our hearts at the agency and it gives me great pride that it has been recognized on the world stage. I am very proud of the team behind this success. I appeal to everyone to donate as much as possible to save lives of our beautiful children".
TBWA\Sri Lanka attributes its consistent success at creative recognition to Disruption®, the tool which propels exponential growth as well as the deep understanding of local insights. This combination they believe is the key to deliver creative solutions that deliver results.