---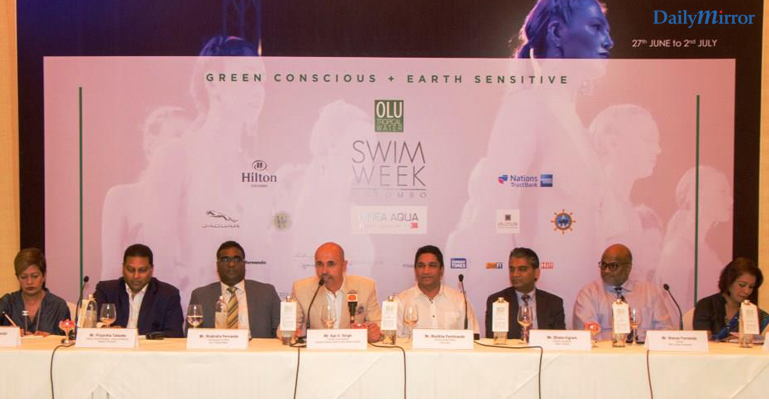 (From left to right) Ramani Fernando - Ramani Fernando Salons, Priyantha Talwatte – Deputy General Manager, Consumer Banking, Nations Trust Bank, Shalindra Fernando – Chief Executive Officer, OLU Tropical Water, Ajai V. Singh – Founder and President, Colombo Fashion Week & Swim Week Colombo, Muditha Ferdinando – Chief Executive Officer, Linea Aqua, Shane Ingram – Director Operations, Hilton Colombo, Sheran Fernando – Director, SML Frontier Automotive (Pvt.) Ltd, Shiranee Yasaratne – Advisor, Biodiversity Sri Lanka
Swim Week Colombo 2018, presented by OLU Tropical Water, will showcase the latest swimwear collections of eleven progressive Sri Lankan designers and three international designers. As demonstrated in its previous editions, Swim Week Colombo is the foremost platform for swimwear designers in Sri Lanka as well as the region and brings together some of the leading minds in the fine art of swimwear the world over. Swim Week Colombo 2018 will take place from 27 June to 2 July with runway shows taking place on 30 June and 1 July.
Swim Week Colombo was established in 2015, with the vision of creating a global platform for swimwear and positioning Sri Lanka as the swimwear capital of the world. Sri Lanka is renowned globally for its world-class swimwear manufacturing capabilities, which has engineered and produced swimwear for some of the world's finest swimwear brands. This existing knowledge and expertise, along with Sri Lanka's strategic position as an island with world-famous beaches and holiday attractions, lends itself the potential to become a global swimwear hub.
"Swim Week Colombo is a strategic fashion development project which aims to showcase Sri Lanka as an expert is swimwear, resort and active wear. This year we are adopting a positioning which is close to our heart and creates an ecosystem based on Green Consciousness. This is another level of activities." Says AjaiVir Singh – Founder of Swim Week Colombo.
Swim Week Colombo is strongly attempting to take the position of the world's first eco-ethical fashion week, and branding has been developed as SWIM WEEK COLOMBO, GREEN CONSCIOUS AND EARTH SENSITIVE. In order to qualify this, three pillars of impact have been detailed; Impact on Garment, Impact on Supply Chain and Impact on the environment.
This season, each participating designer needs to implement any one or more of the above impacts to participate. So every collection is in some way contributing to being Green Conscious and Earth Sensitive.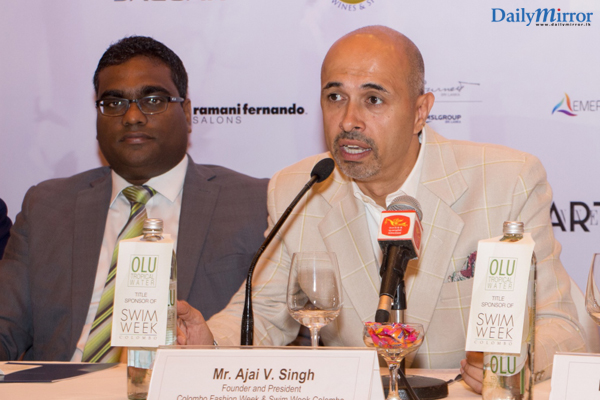 Ajai V. Singh speaking on Swim Week Colombo– Chief Executive Officer, OLU Tropical Water, Ajai V. Singh – Founder and President, Colombo Fashion Week & Swim Week Colombo
The Title Partner of Swim Week Colombo, OLU Tropical Water, is recognized as a premier Sri Lankan brand of natural mineral water with the potential to be recognized globally as an international brand.
"OLU Tropical Water is proud to be the Title Partner of Swim Week Colombo once again as principal partner. Swim Week Colombo has established itself as a key event in the Asian Fashion calendar and this year's theme of Green conscious and Earth sensitive is very close to the heart of OLU as a brand as we strive to minimize our impact on the environment." says Shalindra Fernando – Chief Executive Officer, OLU Tropical Water.
"Swim Week Colombo is a technical collaboration with state-of-the-art swimwear manufacturer, Linea Aqua. Through this partnership, Swim Week Colombo hopes realize its vision to position Sri Lanka as a hub for swimwear design and manufacturing amongst the global creative class. "We are happy to join this groundbreaking path in Sri Lanka a global swimwear hub, as "The Journey" is what Linea Aqua takes pride in." says, CEO of Linea Aqua, Muditha Ferdinando.
Over the last decade, swimwear has been identified as one of the strongest categories in the global fashion industry, with an estimated worth of more than US$17.6 billion. Although once a status symbol of the elite, high-quality swimwear is now more accessible than ever due to the rise in the number of designers who are branching out to swimwear and the introduction of innovative fabrics and silhouettes that target a wider audience. The rise in beach culture, ease of travel to holiday destinations throughout the year and social media influencers have also lead to the rise of swimwear as a versatile, essential piece of clothing in the wardrobes of discerning fashion consumers.
Hosted by Hilton Colombo, its base for the last few years, General Manager, Manesh Fernando, said "It's been a great partnership that has benefitted all of us throughout the years, which has placed Sri Lanka on the global map as being a must visit destination not only for sun, sea, culture and adventure, but for fashion too. Hilton Colombo is also committed to sustainability and environmental responsibility and fully endorse Swim Week Colombo's green initiative."
Nations Trust Bank American Express returns once more as the Official Fashion Card of Swim Week Colombo. Swim Week is proud to associate with a card that opens doors to amazing experiences and opportunities not only in Sri Lanka but around the world.
Swim Week Colombo has formed relevant and strategic partnerships with Sri Lanka's leading brands and they all play an important role in pushing the annual event to international level. Jaguar as the Official Automobile Partner, Wine World is the Official Lifestyle Beverage Partner, Ramani Fernando is Official Hair and Make-Up Partner, Leo Burnett Sri Lanka and MSL Group Sri Lanka is the official PR Partner and Emerging Media is the Outdoor Digital Media Partner –all who share and extend their support towards the vision and aspirations of Swim Week Colombo
Swim week Colombo 2018 will feature the following segments:
Art Connect
In this edition of Swim Week Colombo, Art Connect will return and feature five of Sri Lanka's most acclaimed artists. The artists selected for the exhibition are Mahen Perera, BanduManamperi, Vajira Gunawardena, ChathurikaJayani, AjithSusantha.
Fashion and Food
As with the previous seasons, Swim Week Colombo will see leading restaurants in Colombo curate limited edition menus intended to provide attendees with an unparalleled gastronomical experience exclusively during the fashion week from the 27th of June to the 2nd of July.
Fashion and Food will encourage the participation of an entire spectrum of premium tastemakers which will create special events during Swim Week. Rare at Uga Residence will host the launch of Swim Week; "We love fashion" will be rightly held at The Love Bar at Flamingo House while "Meet at the Lab" will be held at The Hilton Lobby bar. Café Français by Pourcel, will be the venue of the after party. This inclusion will create an expression that transcends the runway, making Summer a celebration of immaculate style and taste.
Fashion Films
This segment, taking place on the 30th June and 1st July, aims to encourage the active collaboration of the two creative streams of fashion and film, producing interesting and innovative interpretations. Last season's winner You're My Favorite returns for another season along with Jason of Ifilms, along with new directors Kavindu, Ihshan Iqbal and Reza Akram.
Trend Swim Seminar
Trend Swim is a panel discussion, on important and trending news on the industry, which will take place in the morning of 1st July at the Hilton Blue. The panel will comprise of 3 -4 leaders in the field and will be moderated by Mihirini de Zoysa. Topics for discussion include "Global Swimwear - Future direction, trends and consumer behavior", "Good and Sustainable Fashion: Building an earth-conscious future, sustainability practices and "Textile Forum" - Fabric technology, innovations in process and product". Last year's edition of Trend Swim was praised for the valuable insight brought by the panel discussions and this year's edition is expected to be just as acclaimed.
Trend Swim Exhibit
Sri Lanka is renowned world-wide for its state of the art manufacturing strength in swimwear. This presentation taking, place on the 1st July, will showcase the capability of manufacturers and open a window into the work that goes into turning out a designer masterpiece.
To round up the week with a finale to these events, the SWC will conclude with a spectacular themed after party at the Café Français