---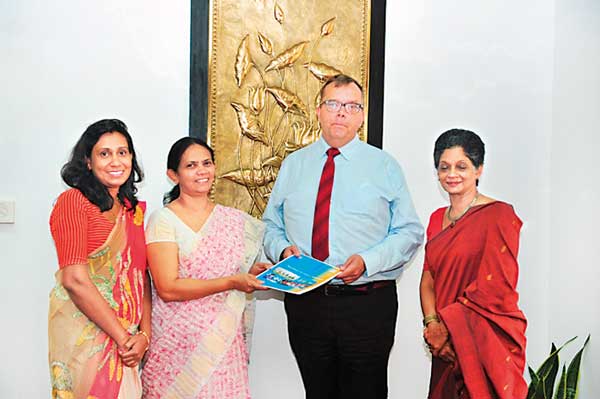 From left: EDB Deputy Director/Market Development Udeni Wijekoon, EDB Director/Market Development Anoma Premathilake, Sweden-Sri Lanka Business Council Secretary General Leif Ivan Ohlson and EDB Chairperson and Chief Executive Indira Malwatte confirming the participation of the Swedish delegation for WEDF 2016 at the EDB
Strengthening the gathering momentum ahead of the World Export Development Forum (WEDF) 2016, to be held in Colombo on October 12 and 13, a trade delegation representing Sweden has confirmed their participation.

The two-day summit heralded to be an unprecedented benchmark for the export industry of the country is organised collaboratively by the Export Development Board of Sri Lanka (EDB) and the International Trade Centre (ITC). Participation of the Swedish delegation was confirmed at a meeting between Leif Ivan Ohlson, Secretary General of the Sweden-Sri Lanka Business Council, headquartered in Stockholm, with Indira Malwatte, Chairperson of EDB, held last week.

Ohlson confirmed the participation of a Swedish delegation at the WEDF, B2B session, which is expected to attract the cream of the local export fraternity. Speaking at the meeting, Ohlson commented on the need to promote trade between the two countries, emphasizing the potential for establishing new, long-standing relationships for the future. He further expressed his strong interest in assisting Sri Lanka to do more trade with Sweden and the Nordic Region at large.

In the past, Ohlson has completed a tenure as the Head of District for the Sri Lanka Monitoring Mission in Batticaloa and has made significant contributions towards reviving the Sweden-Sri Lanka Business Council and now works closely with the Sri Lanka Mission in Sweden.

The B2B session has been conceived with the intention of providing an open platform for businesses to seek out opportunities that exist in the global market and will place focus on ICT, food and beverages, tea, coconut and coconut related products, spices and spa products.