---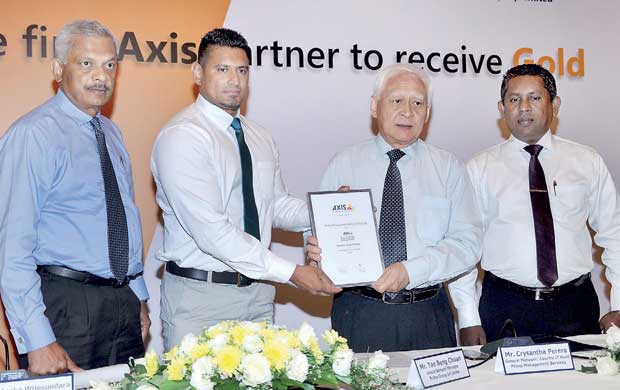 Prima Group Sri Lanka Group General Manager Tan Beng Chuan receives the Gold certification from Axis Communications Country Head Akalanka Wijesundera in the presence of Prima Management Services Director/Group Treasurer Sunil Leeniyagoda (left) and Prima Management Services General Manager/Country IT Head Crysantha Perera (right) Pic by Nisal Baduge
By Zahara Zuhair
Prima Management Services (Pvt.) Limited (PMS), a leading IT solutions company, became the first Sri Lankan company to be awarded the 'Solution Gold Partnership Certificate' by Sweden-based Axis Communications, a leader in
network video.
PMS, being an Axis partner, provides software development, state-of-the-art IP-based video surveillance solutions and IT consultancy, established in 2006.
Speaking at the certificate presenting occasion held in Colombo recently, Axis Communications Sri Lanka and the Maldives Country Manager Akalanka Wijesundara said that the reason for PMS being awarded the Solution Gold certificate was because PMS made the investment towards the partnership by setting up the fully-fledged demo facility, having Axis-certified staff, ability to deploy latest technology as well as the market awareness programmes they conducted.
The PMS' airport project was highly recognised and PMS said that it is looking forward to engage with more institutions where it has already worked with Sri Lanka Police and other key institutions to introduce these particular tools to enhance surveillance.
It was noted that in the airport it is providing state-of-the-art solutions, including video, facial recognition, recognition to people, baggage, crowd formation, etc. which increase security and efficiency.
"The earlier project on the surveillance, people had to monitor each and every client. With our solution this automatically gets done,"
PMS said.
"The digital, network video surveillance system provides a host of benefits and advanced functionalities that cannot be provided by an analogue video surveillance system. The advantages include superior image quality, remote accessibility, distributed intelligent video capabilities, easy installation and integration and better scalability, flexibility and cost-effectiveness," Wijesundara said.
Prima Group Sri Lanka Group General Manager Tan Beng Chuan said that globally, the attention on increased security of key international authorities, namely airports, military bases, commercial enterprises, banks and essential public areas continues to grow, with technology being employed to increase safety and security.
"In line with the current global focus on increased security and the need for ever-changing technological solutions, Prima Management Services, together with its partners, has designed a state-of-the-art mobile surveillance vehicle, which was donated to the Sri Lanka Police last year during the first-ever Video Security Surveillance Symposium held in Colombo," he said.
A member of Prima Group of Companies Sri Lanka, Prima Management Service (Pvt.) Ltd, embarked on its mission of providing benchmarked video security surveillance solutions.
It was noted that Prima is the only company to have expert-level certification for video management software, video analytics software solutions and the world's fastest face recognition software.
Axis, the inventor of the world's first network surveillance camera, operating in 183 countries, delivers a complete range of innovative video surveillance and access control solutions, built on an open platform and supported by high-quality training and customer service.
Axis partners with a comprehensive network of security and IT specialists, together with leading technology suppliers, application developers, security consultants, integrators and installers, to create video surveillance solutions that provide users with greater possibilities.