---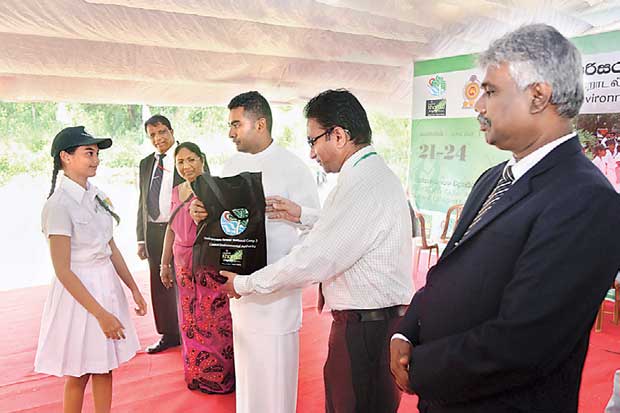 One of the environmental pioneers receives the prize from Anuradha Jayarathna, the Deputy Minister of Mahaweli Development and Environment. Officials of Swadeshi Indurstial Works PLC look on.

In keeping with this commitment, Swadeshi Khomba recently sponsored the 12th 'Environment Pioneer National Camp', which was held at the National College of Education, Peradeniya.
This year's national camp was attended by 400 activists, including 300 environmental pioneers who have excelled in the Environmental Pioneer Program.
The environmental pioneer program is a broad environmental network that is currently being implemented within Sri Lanka's school system by the Central Environmental Authority along with the cooperation of the Ministry of Education with the purpose of creating awareness and social responsibility amongst the future citizens of the country.
The national camp of the Environmental Pioneer Program this year was inaugurated on 22nd September under the guidance of the President Maithripala Sirisena, with the presence of Hon. Minister of Mahaweli Development and Environment Hon. Anuradha Jayarathna, the Deputy Minister of Mahaweli Development and Environment, Governor of the Central Province and Chief Minister of the Central Province were also present as special invitees.
The knowledge sharing and collaboration enabled by the national camp has strengthened the vigor of the Environmental Pioneer Program and it is the hope of the Swadeshi Khomba brand that this stimulation will spur further collaborations and initiatives to preserve the environment at school and household level. The company believes that by sharing its appreciation of nature and enabling its stakeholders, including its employees and customers to pursue environmentally friendly choices, a greater value could be derived both for the company and the nation. The company considers health and environmental impacts of its product through their lifecycles and continues to focus on nature based products to minimize adverse impacts on the environment.
Basing the product on best of what nature has to offer, The Swadeshi Industrial Works PLC., Kandana serves to offer an appreciation of nature's miracle ingredient "Margosa" through its flagship brand Khomba. Swadeshi Khomba Original Herbal Soap, launched in 1943 was the first herbal soap manufactured in Sri Lanka. The Khomba brand has the unique distinction of being the consistent leader in the herbal segment for seven decades, an achievement that is unparalleled with the local and international herbal personal care brands.
The Swadeshi Indurstial Works PLC also annually sponsors the Aloka Poojawas of historical places of worship, under the theme of "Swadeshi Khomba Aloka Puja Sathkaraya"
The Swadeshi Khomba brand continues to carry out sustainability projects, which focus on caring for Mother Nature and will continue to support initiatives that groom Sri Lanka's citizens to be ambassadors and friends of the environment.