---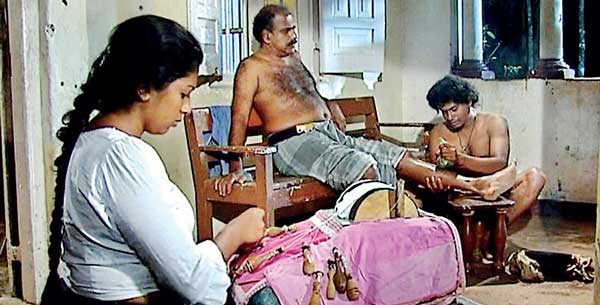 The Swadeshi Industrial Works PLC, the pioneer in natural personal care products, has come forward to sponsor an Avurudu themed teledrama 'Kinduru Kumaraya' directed by award-winning cinema and television director Sudath Rohana, with the hopes of giving the younger generation the opportunity to learn about their local traditions.
The story revolves around family traditions during the Aurudu season, which is very unique for Sri Lankans. The drama will be telecasted on national television Rupavahini on April 13, Sinhala and Tamil New Year day at 1:00 p.m.
The drama is yet another corporate social responsibility (CSR) initiative of Swadeshi Industries, which is celebrating 75 years of success with Swadeshi Khomba herbal soap, the trusted local household name in natural herbal personal care products. In speaking about the unwavering commitment of Swadeshi Industries as a local firm, to uphold and promote local culture, The Swadeshi Industrial Works PLC Chairperson Amari Wijeyewardene reiterated the company's onus to take the local traditions to younger generation, in helping them appreciate their roots and inheritance and she also expressed her confidence in 'Kinduru Kumaraya' drama being able to achieve this aim with the cultural values being portrayed and the skill of acclaimed film and teledrama director Sudath Rohana.
The Swadeshi Industrial Works PLC has also been undertaking one of the most meritorious social services in lighting places of worship through its 'Swadeshi Khomba Aloka Pooja Sathkaraya' initiative wherein places such as Kataragama Kiri Vehera, Ruhunu Kataragama Maha Devalaya, Sabaragamuwa Maha Saman Devalaya, Dendro Point's Sri Vishnu Devalaya, Rideegama Ridee Viharaya, Dambadeniya Raja MahaViharaya and Keragala Raja Maha Viharaya. In 2013, along with the initiative to light up the Dambadeniya sacred zone, Wijewardene also supported to restore the ancient Temple of the Tooth Relic and the ancient wall paintings in Dambadeniya Raja Maha Viharaya under the supervision of the Department of Archaeology. Wijewardene is the granddaughter of Helena Wijewardene lamatheni, who in 1927 supported the restoration of Kelaniya Raja Maha Viharaya. The cast for 'Kinduru Kumaraya' includes renowned artists such as Sathischandra Edirisinghe, Janaka Premalal, Madushan Hathalawatta, Lakshika Jayawardena, Wasantha Wi t t a c h c h i a n d M a l k a n t h i Jayasinghe.
The teledrama has been produced by Deepthi Wijetunga, with Navaratna Gamage composing music while Sarath Dharmasiri has written the screen pay. Being the pioneer in soap and personal care products since 1941, The Swadeshi Industrial Work PLC has been awarded ISO 9001: 2008 international certification for its quality management