---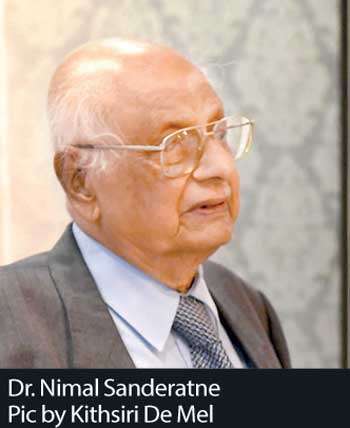 In an effort to pull the national economy towards a position that allows all sections of the population to equally benefit, a top economist says that Sri Lanka must pay greater emphasis on encouraging the informal economy to boom instead of forming policies that would weaken it.

Acknowledging the value added to the economy by the local informal sector is over 40 percent of GDP, senior economist and former central banker Dr. Nimal Sanderatne said improvement in the country's economic infrastructure is required to further empower the sector.

"Interventionist policies to help informal enterprises should be adopted with caution as inappropriate and regulatory policies could lead to detrimental results. So utmost care and imaginative approaches are necessary," Dr. Sanderatne told a labour conference organised by the Employers' Federation of Ceylon and International Labour Organisation in Colombo, yesterday.

Although there is a growing recognition that the informal enterprise is not a marginal phenomenon but a substantial contributor to the economy, it was highlighted that there could be hasty and well-intentioned but poorly conceived policies to help the informal sector.

However, Dr. Sanderatne stressed that "such haste must be tempered" as policy interventions that attempt to formalise informal economic activities could be counterproductive and diminish their productive capacity.

One of most needed policy interventions, according to Dr. Sanderatne, is the minimization of rules and regulations that hamper economic activities.
"These are not rules and regulations which affect informal enterprises alone, but both formal and informal enterprises. An excessively regulated society with a miasma of regulations affects informal enterprises more adversely than institutional enterprises", he stressed.

Suggestions have recently been made towards placing informal sector workers within the purview of the country's labour legislation.

Dr. Sanderatne opined that such proposals should be discussed in terms of three categories of workers in the informal sector, which are; the self-employed, member of the household, relations and part time helpers and a few hired employees on a regular or contractual basis.

He pointed out that it would not be meaningful for the first category to come within the purview of labour legislation and is impractical to include the second. However, the issues of the hired employees are yet to be deliberated on as their situation is "somewhat diverse," he said.

According to data gathered at the listing stage of the economic census that is currently underway, as many as 62.5 percent of businesses in industry, trade and services sectors are run by only one person, while 31.8 percent of businesses are conducted by between two to five persons. (SAA)