---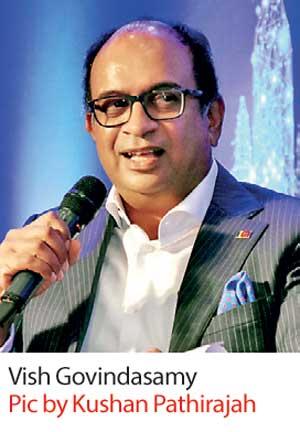 Sunshine Holdings Group Managing Director and Vice Chairman of Ceylon Chamber of Commerce (CCC), Vish Govindasamy addressing the Sri Lanka Economic Summit 2019 said a strategic unit needs to be set up to analyse and proactively respond to implications of global events which have a direct correlation and impact on Sri Lanka's economic progression.
Participating as a panellist at the first session of the summit, Govindasamy explained why global discussions around the drone attack on Saudi Arabia's oil facility, Brexit and the US-China trade war have to be monitored and appropriately assessed to figure their implications on the country's economy.

"Sri Lanka is yet to identify the real economic impact of Saudi Arabia's drone attack on its oil tanks. With global conversations happening around the Brexit, the US-China trade war and Middle East tensions as well, the onus is on Sri Lanka to comprehend global financial market dynamics and what implications these underlying forces have on Sri Lanka and
its economy.

"That is why it is crucial for the country to build a single, strategic unit that will focus on all these global events, analyse and react proactively to them, rather than wait for months to evaluate an outcome.

In the backdrop of a trade war between the US and China, Govindasamy said that Sri Lanka has an upper hand to gain more advantages, compared to some of the other regional destinations.

"Sri Lanka's prime location in the maritime sector—situated between China and the US—can help the country to act as a major logistics and transhipment hub in the region. With an ideal geographical location, a conducive climate for business and conducive general infrastructure for operations, Sri Lanka needs to revitalise its national entrepot trade vision and strategies to take advantage of the US-China trade war."

"Sri Lanka could get more manufacturing investment as economic tension between China and the US grow, and organisations try to reorganise their supply chain operations. "We will continue to see the relocation of fragments of production into territories like Sri Lanka where companies can mitigate risks around tariff increase. This is why a dedicated unit is of utmost importance for the country to thoroughly asses Sri Lanka's installed manufacturing capacity, labour market constraints and other geopolitical challenges to draw in prospective buyers to the country," Govindasamy added.

Answering to a question on how medical tourism can be promoted in Sri Lanka, Govindasamy said that the local healthcare industry needs to take drastic actions to improve hygiene, aftercare, diagnostics and nursing skills.

"I think Sri Lanka is well poised to handle health tourism which will probably be a great foreign exchange earner for the country. However, areas like hygiene and aftercare have to improve significantly. The first 48 hours after a critical surgery is the most critical period of a patient, and during that time, hygiene and aftercare have to be in their best State. "I believe Sri Lanka is not probably there yet. When it comes to diagnostics also, we can improve a lot. Even though there have been tremendous investments in the diagnostic sector,a lot of diagnostiscs available in western countries are not available here. If Sri Lanka were to promote health tourism, the industry needs to collectively work on improving hygiene, aftercare, state-of-the-art diagnostics and skills development in nursing care."