---
The group to start a dairy farm in March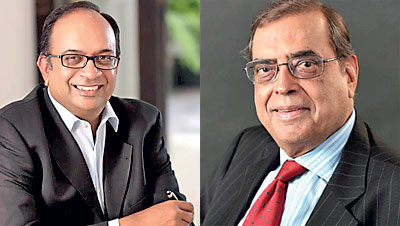 Diversified conglomerate Sunshine Holdings PLC will be expanding its healthcare footprint by doubling the number of pharmacies in existence by 2018.

"Sunshine Holdings expects to more than double the outlets of Healthguard from 21 to 50 by the 2018 financial year while also placing emphasis on product segments with higher margins," Sunshine Holdings Chairman Munir Shaikh said.
He said that the physical expansion, coupled with increased partnerships with agents, will increase Sunshine Holdings' market share in retail healthcare to 15 percent.

During the current financial year, 7 new Healthguard branches, 3 full service stores and 4 express stores were opened, in addition to launching the Healthguard online store.

The group's current investment into the healthcare sector is Rs.3.8 billion.

Sunshine Holdings posted a net profit of Rs.175.35 billion for the third quarter ended December 31 (3Q16) improving from Rs.103.59 million year-on-year (yoy) through the performances of its healthcare and fast-moving consumer goods (FMCG) sectors.

Basic earnings per share (EPS) increased to Rs.1.30 from 77 cents.

Revenue increased 5 percent yoy to Rs.4.29 billion, as cost of sales increased 4 percent yoy to Rs.3.15 billion.

Selling and distribution expenses increased 43 percent yoy to Rs.270.54 million and administrative expenses increased 5 percent yoy to Rs.399.02 million. Net finance costs fell 42 percent yoy to Rs.15.66 million.

Income tax expenses fell 24 percent yoy to Rs.87.31 million.

The asset base improved to Rs.16.17 billion from Rs.15.18 billion in 2Q16, while long and short-term loans and borrowings in 3Q16 increased to Rs.1.75 billion from Rs.1.4 billion in 2Q16, and bank overdrafts increased to Rs.599.11 million from Rs. 383.50 million in the same period.

For the 9 months ended December, the group posted a net profit of Rs.508.85 million, growing 25 percent yoy.

Revenue increased 5 percent yoy to Rs.12.81 billion, and cost of sales increased 2 percent yoy to Rs.9.61 billion.

In a segmental breakdown for the 9 months, healthcare posted profits after tax (PAT) of Rs.264.13 million, increasing from Rs.174.47 million yoy despite currency depreciation increasing import costs, while revenue increased to Rs 5.27 billion from Rs. 4.5 billion yoy.

The agriculture sector PAT increased to Rs.438.82 million from Rs.408.77 million yoy helped by palm oil plantations and cost cutting in the face of negatively performing rubber and tea plantations.
Segmental revenue increased to Rs.4.62 billion from Rs.5.28 billion yoy.

The group will also start a dairy farm in March which will include 1,000 dairy cattle, to further diversify the segment.

The group already has 200 dairy cows at its 'Lonach' farm.

FMCG PAT increased to Rs.343.31 million from Rs.254.43 million yoy, as the fastest growing segment profited from the packaged Watawala Tea brand. The segment's revenue increased to Rs. 2.52 billion from Rs. 2.11 billion yoy.

PAT from investments declined to Rs.152.84 million from Rs.225.05 million yoy, as revenue fell to Rs.178.11 million from Rs. 205.30 million yoy.

Increased rainfall and better grid stability contributed to Rs.41.80 million in PAT for the group's energy sector, which grew from Rs.20.37 million yoy, while revenue increased to Rs. 104.07 million from Rs.87.91 million yoy.

The packaging sector started contributing to the group's bottom line, posting a PAT of Rs.12.99 million from a Rs.18.94 million loss yoy. Segmental revenue increased to Rs.261.57 million from Rs. 185.67 million yoy.

The group's management fee profits declined to Rs.286.28 million from Rs.296.37 million yoy.