---
Diversified conglomerate Sunshine Holdings PLC saw its September quarter (2Q20) earnings surging amid decline in sales costs and a strong healthcare sector performance, the interim financial accounts released to the Colombo Stock Exchange showed.

The group earnings for 2Q20 rose 71 percent year-on-year (YoY) to Rs.398.8 million and the earnings per share for the period improved to Rs.2.67 from Rs.1.67 a year ago.
The revenue for the period edged up 1 percent YoY to Rs.5.3 billion while cost of sales fell 9 percent YoY to Rs.3.5 billion, resulting in a gross profit of Rs.1.8 billion, up 27
percent YoY.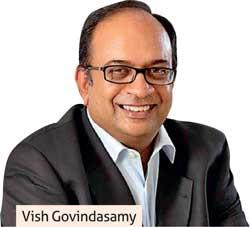 The operating profit of the group rose 37 percent YoY to Rs.936.9 million.

The net finance cost rose 55 percent YoY to Rs.81.2 million.

Meanwhile, for the six months ended September 30, 2019, Sunshine group reported earnings of Rs.4.89 per share or Rs.731.8 million compared to earnings of Rs.3.02 per share or Rs.423.4 million reported for the same period last year.

The revenue for the period fell 3 percent YoY to Rs.10.5 billion.

The healthcare sector of the group recorded revenue of Rs.5.3 billion in the six months, which is an increase of 19.2 percent YoY. EBIT for the sector increased by 90.5 percent YoY to Rs.452 million and profit after tax (PAT) amounted to Rs.273 million, significantly increasing by 77.5 percent YoY.
Group Managing Director Vish Govindasamy said the increase in the healthcare sector PAT was due to strong performance in the medical devices division.

The group's consumer goods sector reported 0.5 percent YoY growth in revenue to Rs.2.8 billion. The PAT decreased 15.9 percent YoY to Rs. 198 million compared to the same period last year.

Meanwhile, the agriculture sector revenue dropped by 33 percent during the period compared to the same period last year. However, the gross profit of the sector increased 13 percent YoY to Rs.96 million due to the improved performance in the palm oil segment and divestment of a majority stake held in Hatton plantation PLC.

The energy sector revenue of the group decreased to Rs.100 million from Rs.197 million due to lower rain falls in the catchment areas and plant maintenance. This has resulted in a post-tax loss of Rs.37 million compared to a PAT of Rs.102 million in the same period last year.

Lamurep Investments Limited holds 45.41 percent stake in Sunshine Holdings, followed by an 18.08 percent stake by SBI Ven Holdings Private Limited and 17.43 percent stake by Deepcar Limited.