---
By Shabiya Ali Ahlam
Averting a storm in Sri Lanka's tea cuppa would require the industry to step out of its comfort zone and take proactive decisions in market expansion and such moves are essential to be made in the short term if Ceylon tea is to retain its stance in the global stage, according to a listed tea broker.
With the local tea industry yet to respond to the call for the widening of its market horizon, Ceylon Tea Brokers PLC asserted that in the emerging global scenario, it is imperative for the nation to look at pragmatic solutions and implement decisions to make its presence felt in the ever expanding global tea market.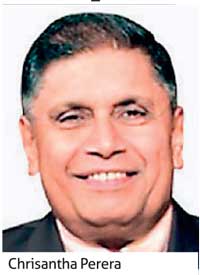 "Solutions and opportunities are out there, but our ability to step out of our comfort zone and create constructive change by facilitating tangible expansion in export markets as well as taking proactive decisions is still to be seen.

Sri Lanka, in our view, cannot operate in isolation without accepting the importance of integrating with the global trend," professed Ceylon Tea Brokers' Chairman Chrisantha Perera in the company's latest annual report.
According to the industry veteran, there is an urgent need to examine the hotly debated topic of making Sri Lanka a tea hub without compromising the inherent value of marketing pure Ceylon tea.
"We are confident that we could have the best of both worlds if the industry can work together to make this a reality," he added.

Along with Sri Lanka having lost its established position as the highest value exporter, it has also lost out on the so-called value addition, which generated greater export earnings, even though the volume of exports was lower than some of the larger tea producing countries such as China and Kenya.
Analysis by Ceylon Tea Brokers on developing trends in the global market show that non-tea producing countries appear to be establishing themselves as value-added destinations not only for their domestic consumption, but more importantly for re-exports.

Once such is Dubai. Since establishing itself as a tea hub, it continues to be one of the biggest importers of Sri Lanka tea. The majority of tea imports have been in bulk form with the major component being utilised for blending and re-exports.

Perera also noted that Sri Lanka, whilst being a top category tea exporter in the world, does not appear to have the ability to penetrate into new markets effectively.

China, Kenya and India have seen an upturn in their export earnings from tea in 2015 compared with 2014, whilst Sri Lanka has reversed its export earnings fairly substantially.

Out of the five leading tea importing countries, namely Russia, Pakistan, the UK, the USA and Egypt, Sri Lanka has a significant presence only in Russia.