---
Star Holdings – a 100 percent Sri Lankan Fabric Care Company has added another 'Sri Lanka's first' to its product portfolio which already includes innovative products like Star Dishwash Round and Starlight Detergent Powder.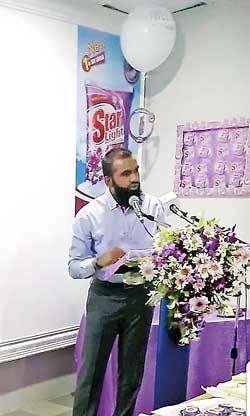 Starlight Lavender has signified a revolution in the industry where its special formulation has incorporated a real two-in-one effect. Consumers of Sri Lanka will now have the opportunity to wash their fabrics while softening them too. This is the first time a laundry care manufacturer in Sri Lanka produced a Detergent Powder with Fabric Softener.

Speaking to the press, Star Holdings Marketing General Manager Hashan Haputhanthri said: "It is a great day for us to have launched another first class product for our Sri Lankan consumers. Starlight Lavender comes with a two-in-one fabric softener. No multinational to this date has launched such a product. Since Star Holdings is a 100 percent Sri Lankan organization with a mission of 'bringing clarity to a Sri Lankan Life', the company has always been looking to produce innovative products to the consumers to maximize efficiency in their laundry care."

Star Holdings Sales and Operations General Manager Hema Tennakoon commented: "Star Holdings strongly considers the value for money and trust policies as the core principles of all our brands. This launch will also boost the morale of our sales force and motivate them to face any competitive challenges in the future. We will continue to offer our valued consumers better products, at better value and better quality to promote better living standards."

"On our journey towards the next few years we foresee introduction of many innovative, unique and high quality products in order to be the 'game changer' in the market and also ensure that Star will be a nationally recognized product and number-one choice for Lankan consumers," commented Starlight Holdings CEO Nazumi Nawash.

"Many research studies conducted by independent Indian and foreign laboratories show the effects of the product's unique dirt busting and colour brightening properties which currently remain unmatched amidst the competitive products available in the market," he further added.

Star Holdings is one of the few Sri Lankan companies that is changing the competitive landscape of the fabric-care/detergent market along-side
strong multinationals.