---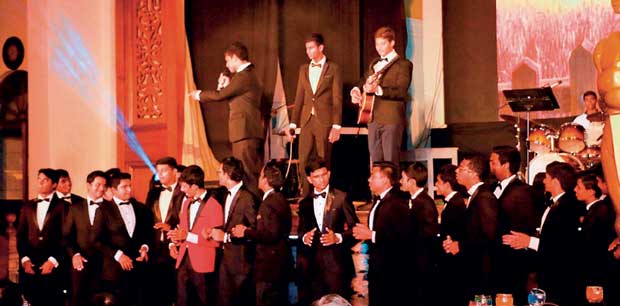 With the participation of 150 prefects from many schools islandwide, the Annual Prefects' Day of St. Joseph's College, Colombo 10 concluded on a successful note. Titled 'Aberrance 2016', this glamorous event was organised by the 2015/2016 Prefects' Body of St. Joseph's College.
Keeping with college tradition of organising a fun-filled event for student leaders to network with one another through games and outdoor activity, this year, the Prefects' Body of St. Joseph's College introduced a segment which focused on educating future leaders on a variety of global issues. Under the guidance of Rev. Fr. Travis Gabriel, the Rector of St. Joseph's College, the Prefects' Body organised this campaign with the objective of promoting the global goals amongst other school prefects. "This year we decided on the theme 'Aberrance' to change the ordinary structures and used this opportunity to make Prefect's Day not just a gathering for fun and games but a meaningful event which teaches us something valuable which we can take back home and think about," commented Head Prefect 2015/2016 Joshua Moraes.
With three eminent speakers and interactive sessions, the discussion was based on the Sustainable Development Goals (SDG) introduced by the United Nations General Assembly last year. UN Volunteers Programme in Sri Lanka Head Sveva Pettorino commenting on the SDG said, "2016 is a very important year for the UN and Sri Lanka. From the government to civil society and young people like yourselves, Sri Lankans are coming together to ensure that no one is left behind. The SDGs are about everyday people. The SDGs are about you. So many thousand Sri Lankans, especially young Sri Lankans played a critical role in designing the 2030 Sustainable Development Agenda".
World Vision Lanka National Director Dhanan Senathirajah and Dr. Ananda Mallawatantri of the IUCN captured the attention of the audience by speaking on important issues such as poverty and climate change. In September 2015, 193 world leaders agreed to 17 Global Goals for Sustainable Development. If these goals are completed, it would mean an end to extreme poverty, inequality and climate change by 2030.
St. Joseph's College, the premier Catholic boys' school in the country, saw the efforts of 112 prefects and stewards along with the Board of Prefects coming together to make this a successful and unforgettable event.