---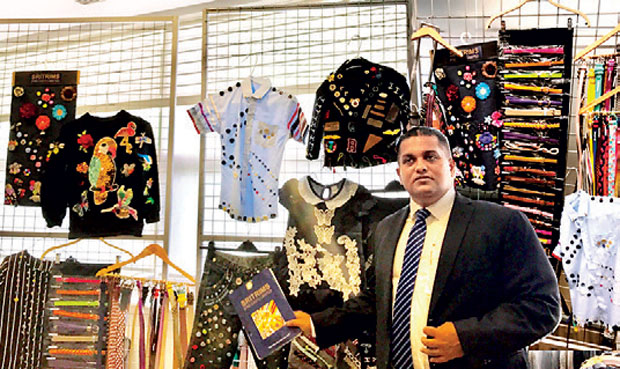 Sritrims (Far East) Ltd Hong Kong recently unveiled their summer 2018 fashion accessory collection in London, UK.

This fashion accessory includes two types of belts made out of PU Leather, commonly known as bi-cast leather and the belts are made out of Spun polyester webbing.

The belt range is mainly focused on the young and teenage girls fashion bottoms. The webbing belt range is mainly focused on the men's casual bottom range. Also this range included of Embellishments & a variety of embroidered / sequined motif's and metal accessories variety of embroidery, sequin motifs, metal accessories, laces and Lace motifs made out of polyester, nylon and cotton, synthetic leather based patches. Trendy beaded patches and the heat transfer based motifs added more vibrance to the collection that comes in high end quality standards catering all European testing requirements.

During the presentation Nishantha Delgoda, Managing Director of Sritrims (Far East) Ltd. stated that this release in London was based with the present trend and requirement of Marks & Spencer, Debenhams, Dewhirst and Next to whom the presentation was extended by individual in house presentations.

He also mentioned that their products are manufactured in south China and their operation is headed and controlled by a team of garment industry qualified Sri Lankans. We cater to the new requirement of the CPSIA U.S.A and European standards. All our products are ecologically friendly and does not consist of Nickel, Lead, Pathalate, Chromium , etc. Sritrims (Far East) Ltd is Okoetex approved manufacture of belts and high end garment accessories operating a manufacturing plant in south china and having their global liason offices to market their product in countries, like Indonesia, Sri Lanka, India, Bangladesh, Vietnam, Hong Kong.

Sritrims Far East in Hongkong is a fully owned Sri Lankan company operating in Far East over 20 years and is a sister company of Speed Water, Speed Lands, Speed Credit and Speed Motors. Manufacturing garment accessories under reputed brand names in the garment and fashion industry of the world.

The offices of Sritrims (Far East) Limited are operating in Sri Lanka, India, Pakistan, Turkey, Bangladesh, Indonesia, Vietnam and Singapore. Sritrims (Far East) Limited is working with reputed buyers such as tema, next, sainsbury's, george, peacock, m & s, tesco, animal, landsend, oshkosh, nike, decatholan, bhs, ann taylor, polo, walt disney & nike, dewhirts, debenhams. They are an okeotex 100 certified company along CPSIA certifications for European standards.