---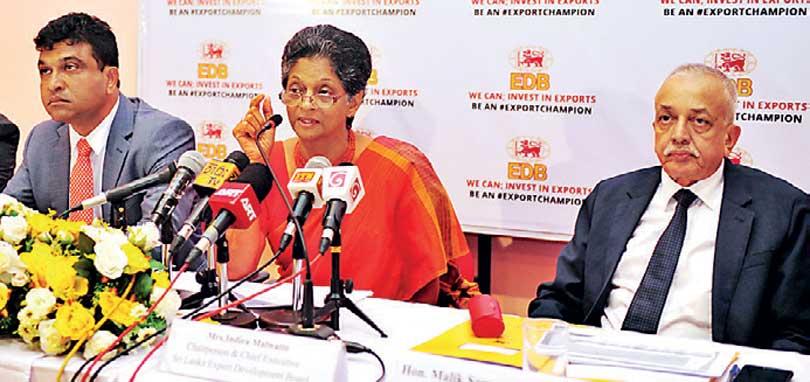 From left: Deputy Development Strategies and International Trade Minister Nalin Bandara, EDB Chairperson Indira Malwatte and Development Strategies and International Trade Minister Malik Samarawickrama
SL likely to end 2019 with US$ 18.5 bn in export earnings
Exports likely to account for 20% of GDP this year, up from current 18%
Banks on liberal market-oriented policies to boost future exports
By Shabiya Ali Ahlam
While maintaining that the US$ 20 billion export target is still a possibility for this year, Development Strategies and International Trade Ministry yesterday said Sri Lanka would likely end the year with US$ 18.5 billion in export earnings, an achievement that should be applauded.

"We set ourselves an ambitious but achievable target of reaching US$ 20 billion for 2019. However, it is likely that we will close with US$ 18.5 billion, which is still good given that it will be a 30 percent increase in the export volume from what was achieved in 2016," Development Strategies and International Trade Minister Malik Samarawickrama told reporters in Colombo yesterday.

According to statistics shared by the Export Development Board (EDB), exports in 2019 first half grew at the rate of 11.4 percent while the overall growth rate in the first half of the previous year was 10.9 percent.

EDB said compared to 2018, merchandise exports grew 6 percent while services grew 26.9 percent during the first half 2019.
Sri Lanka recorded over US$ 1 billion monthly merchandise exports in the months of January, March and June of this year.

Samarawickrama expressed confidence in the ability to achieve higher export performance this year—about 20 percent of the GDP—which according to him would be a 'good achievement' but is 'nowhere' the sector should be.

"To come out of debt we need to have an export turnover of US$ 35 billion. Only then we can be comfortable. We cannot continue to borrow to pay off our debts," he stressed.
Whilst taking a jab at the previous regime for not prioritizing international trade as much as it should have, the minister pointed out that the UNP government took over an export sector that only accounted for 11 – 12 percent of the GDP. At present, the sector contributes 18 percent to the GDP.

"They gave no importance to exports, and were inclined to look at the domestic sector instead. While doing that, our peer countries rapidly increased their exports by changing policies," said Samarawickrama, citing Vietnam as an example as its exports reached US$ 270 billion last year while Sri Lanka only managed US$ 16 billion.

Assuring measures are being taken to boost the sector, Samarawickrama stressed liberal market-oriented policies implemented by the government will accelerate the country's development process and open new vistas.

The broadening and deepening of the current free trade agreements (FTAs) and inking of new FTAs with developing Asian nations will enable access to a market of more than US$ 3 billion, he said.

"Measures have already been initiated to establish Sri Lanka's active participation in the global value chain with focus of creating a global centre of excellence in high-end product engineering," he said.