---
Huawei, a leading smartphone brand in Sri Lanka, yesterday announced that Singer Sri Lanka, the exclusive national distributor for Huawei smartphones, has successfully surpassed Rs.1 billion Huawei smartphone sales generated solely in the month of December 2016.
As a trusted, state-of-the-art brand amongst the public, Huawei together with Singer enhanced their sales through the introduction of a number of brand-new, innovative smartphones and tablet devices supported by several aggressive marketing initiatives.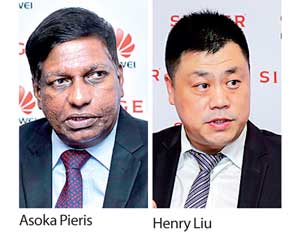 The latest Huawei P9 and P9 Lite came with a Leica co-engineered dual camera smartphone, targeting the high-end buyers while the mid-range additions to the GR family-GR5, GR5 Mini, GR5 2017 and the entry-level 4G smartphones Y6PRO, Y6II and Y5II helped increase Huawei's brand image amongst smartphone enthusiasts around the country.
An upbeat Singer Sri Lanka Group CEO Asoka Pieris stated, "This is a significant milestone for Huawei and Singer Sri Lanka.
I congratulate the entire team for their continuous focus and commitment towards reaching this excellent feat. Since the inception of the partnership with Singer Sri Lanka as exclusive distributors, Huawei has extended to us their fullest support in order to reach our targets. We look forward to achieving an even higher figure in terms of volumes in the year ahead as we set our eyes on taking Huawei to the number one position this year."
Through the current product line-up with an efficient supply chain management, Singer has effectively managed to accomplish the desired target for 2016 for Huawei. Extensive distribution strategies like the Singer Digital Media channel is focused on achieving a maximum reach for the Huawei brand and being managed effectively in the marketplace.
Huawei Device Sri Lanka Country Head Henry Liu commenting about the achievement said, "Since our entry into Sri Lanka as a smartphone brand, Huawei has been identified as a leader in cutting-edge technology with a feel of a leading global brand. Sri Lankan smartphone consumers have been embracing technology trends from around the globe and becoming even more aware about innovative and quality products. Singer Sri Lanka plays an integral role in taking Huawei innovation to our valued customers all around the country."
He further added, "Huawei is making significant progress in the local high-end smartphone market. In December 2016, we managed to sell over 500 P9 smartphones in Sri Lanka, which is a commendable result."
Globally more than 10 million Huawei P9/P9 Lite smartphones were shipped, making it the company's first flagship series to top the 10 million mark. This is a milestone for Huawei both from a product and brand perspective. The Huawei P9 and P9 Lite devices have achieved impressive results in the premium segment; a major breakthrough that proves Huawei's investment in international markets is
paying off.