---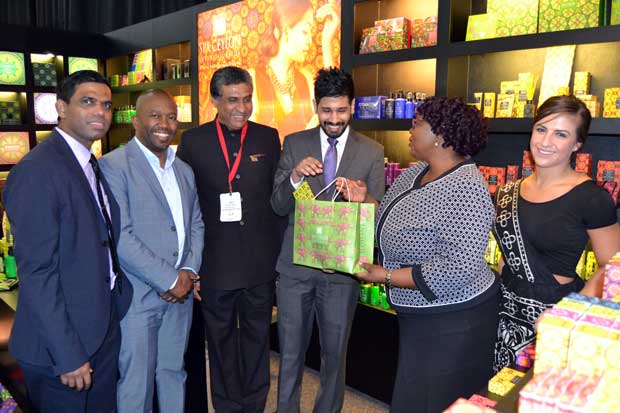 Deputy Minister Elizabeth Thabethe receives a luxury Ayurveda gift pack from SPA Ceylon Nishantha De Alwis. South Africa Tourism CEO Sisa Ntshona, High Commissioner Sunil De Silva and Commercial Secretary at Sri Lanka High Commission Kapila J. Kumara are also in the picture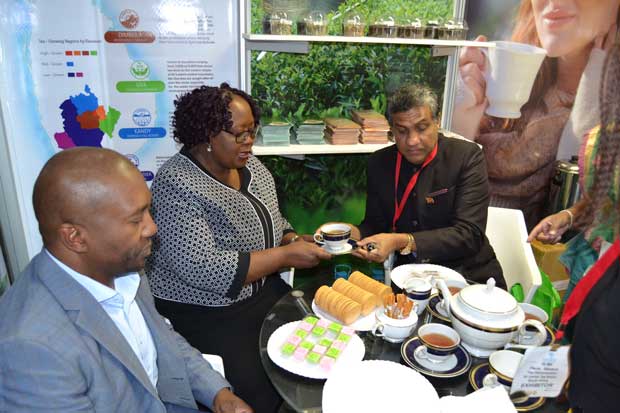 Saitex is considered as Africa's largest international products sourcing exhibition that is held annually.
Sri Lanka Tea Board, Fresh Tea Pvt Ltd and Spa Ceylon Luxury Ayurveda from Sri Lanka participated at this year's exhibition.
With a view to popularize 'Ceylon Tea' brand in the continent, the Tea Board had tea tasting opportunities for the participants and handed over tea samples. The attending VIPs were also provided the opportunity to sample varieties of 'Ceylon Tea', and were gifted with tea samples.
The highlight of Sri Lanka pavilion was the lighting of the traditional oil lamp by the chief guest of Saitex, South African Tourism CEO, South Africa Tourism Deputy Minister Elizabeth Thabethe, at the invitation of High Commissioner Sunil De Silva. South Africa Tourism CEO Sisa Ntshona and Saitex Director Brad Hook, were also invited to light the
oil lamp.
The Southern African International Trade Exhibition (SAITEX) provides an opportunity for businesses to network with other suppliers in South Africa and in the region.
A large number of exhibitors both from Southern African region and from other countries were present in this year's event. The Sri Lankan exhibitors were highly satisfied with the firm inquiries received for its products from South African importers and distributors who visited Saitex 2017. The three-day event successfully concluded on June 27th.