---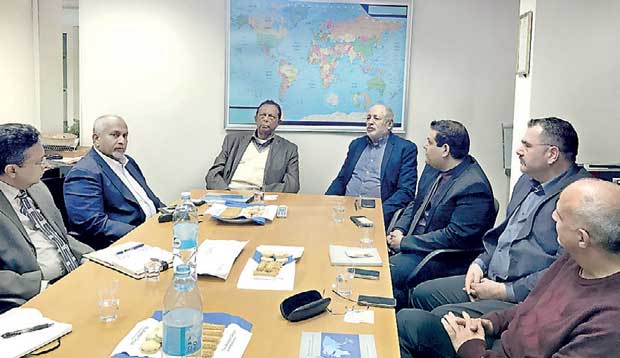 Tourism Development Minister John Amaratunga, SLTPB Managing Director Felix Rodrigo, Sri Lanka's Ambassador to Israel Sutheash Balasubramanium in discussion with leading tour operators in Israel
Renewed efforts are being made to position Sri Lanka as an attractive destination for the outbound Middle East tourism market, Sri Lanka's Tourism Ministry said.
The star performer for Sri Lanka in the Middle Eastern market last year was Israel which grew by an impressive 33.4 percent year-on-year (YoY) in a scenario where overall growth from the region was 6.5 percent (YoY).
In order to consolidate this growth trend, Sri Lanka Tourism is paying special attention to the Israeli outbound market which is estimated at 16 million travellers, double the country's population, which denotes the fact that its citizens undertake multiple foreign trips during the course of a year.
A Sri Lankan delegation headed by the Minister of Tourism Development, John Amaratunga is currently in Tel Aviv, Israel to attend the 23rd annual International Mediterranean Tourism Market (IMTM 2017) taking place at the Tel Aviv Convention Centre on February 7-8.
Representatives of 40 countries and regions are participating at the exhibition this year with an anticipated attendance of over 20,000 visitors.
Among the countries taking part are Sri Lanka, Cyprus, Greece, Italy, Slovenia, Austria, Belarus, Spain, Catalonia, Finland, Lapland, Lithuania, the Czech Republic, Georgia, the US, Portugal, Malta, Poland, Kyrgyzstan, India, Korea, the Philippines, Nepal, Vietnam, Japan, South Africa, Tanzania, Botswana, Morocco, Ecuador, and Panama among others.
The Sri Lankan delegation held a meeting with the leading tour operators of Israel on the sidelines of the IMTM on Monday (6). The delegation led by Minister Amaratunga comprised of Senior Advisor, Felix Rodrigo, Managing Director of Sri Lanka Tourism Promotion Bureau, Sutheash Balasubramanium, Sri Lanka's Ambassador to Israel and First Secretary of the embassy.
Some of the key topics discussed during the meeting were establishing direct air links between the two countries, possibility of arranging charter operations commencing next summer, other options of connectivity, and trade promotion.
Following the positive outcome of the meeting it was decided to follow up with operational level meetings in the near future.
"In order to achieve our targets, we need to aggressively market Sri Lanka at the appropriate fora so as to secure our share of the international tourism pie. The Middle East is a lucrative market that needs to be carefully nurtured. With the travel issues in Europe and US, this is our opportunity to woo the Middle East," noted Minister Amaratunga.
IMTM has gained momentum in recent years and has become the flagship event of the tourism industry in Israel while establishing itself as an important exhibition of the global tourism industry.