---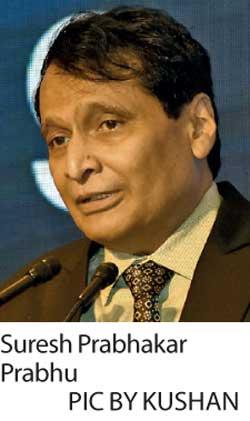 By Nishel Fernando
Sri Lanka is urged to consider partnering with India in wind power generation and joint tea marketing efforts to boost exports to drive the economic growth over the next few years.
"Sri Lanka's potential for wind could be 40,000-50,000 MW and Sri Lanka cannot use that energy in its own grid. Even if you want to use it, it has limitation. However, if you export that to India, just imagine the amount of revenueSri Lanka can get.

There's a US $ 50 billion investment potential. Imagine what it means for Sri Lanka's economy. It's a capex, one-time investment and imagine revenue can be generated over a period of time," Suresh Prabhakar Prabhu, former Minister of Commerce and Industry and Civil Aviation in India and Official Emissary of Prime Minister of India in the G7 & G20 forum, pointed out.
He made these remarks speaking at Sri Lanka Economic Summit 2019, held in Colombo this Tuesday. Prabhu noted that India entered into a similar partnership with Bhutan during his tenure as the Power and Energy Minister.
India has committed to Bhutan in developing a minimum of 10,000 MW of hydropower by 2020 and to import the surplus electricity.

With the assistance of India, Bhutan recently launched a 720 MW hydropower project on the Mangdechhu River.

Prabhu emphasised that the per capita income of Bhutan had been increasing since Indian investments flowed to Bhutan's energy sector and the country started exporting hydropower to India.

"We invested and the per capita income of Bhutan rose because of the royalties we paid Bhutan to purchase hydro electricity. Same thing can happen in Sri Lanka," he said.
He also stressed that this would be one way for Sri Lanka to boost the economy without compromising the natural beauty of the country.

Further, he proposed Sri Lanka and India to engage in joint tea marketing efforts to maximise export revenues for both countries from tea.

As strategic partnerships are increasingly becoming important in global trade, Prabhu insisted that both countries need to cooperate which would mutually beneficial for both countries.
Commenting on the proposed Economic and Technology Co-operation Agreement (ETCA) between Sri Lanka and India, he opined that the business of the two countries needs to come into consensus on how to move forward.

"The best way to move forward is to let business of Sri Lanka and business of India talk to each other, let them decide first what's in their best interests. Depending on their conclusion, the government can step in. The win-win formula can only happen when stakeholders talk to each other.

We must make sure businesses on either side talk to each other, understand their issues and find a solution what's best in their own way and then we can definitely make it happen. I can definitely see there's a great potential in having this partnership," he elaborated.

Prabhu professed that the development of Sri Lanka should take place in a way which preserves natural capital of the country, while utilising the large invaluable human capital of the country.