---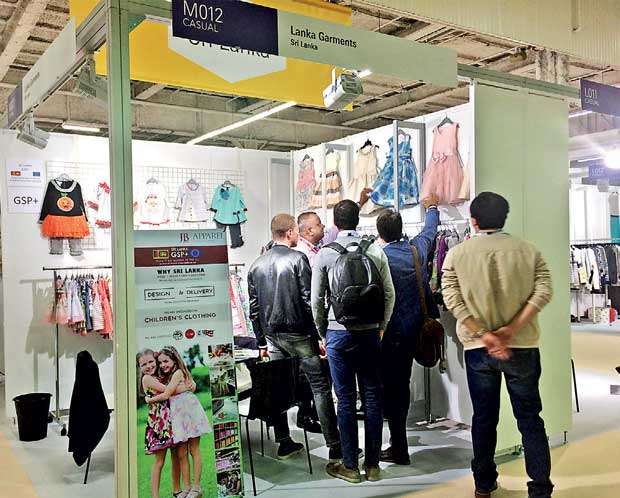 One of the Sri Lankan stalls last time
A total of 6 Sri Lankan apparel manufacturers and 2 designers will participate in the four-day fair in Paris from 17th – 20th September.

Texworld/Apparel Sourcing Paris is one of the best options for Sri Lankan RMG sector to improve their market share not just in France but all over Europe.
Texworld/Apparel Sourcing Paris is considered as one of the most effective apparel sourcing exhibitions in Europe for Sri Lankan exporters as a good number of buyers always visit the stalls.
In the September 2017 edition, a total of 1,660 exhibitors participated at Texworld/Apparel Sourcing. The fair recorded 14,581 visitors from 108 countries. Visitors come from all over Europe with a large number of buyers from UK, France, Turkey, Spain, Italy and Germany.

Sri Lanka will be having its 2nd national pavilion under the banner of Export Development Board of Sri Lanka (EDB) at Texworld/Apparel Sourcing Paris September 2018.

The fair will display a global range of fashion products from the major manufacturing countries of Bangladesh, China, Cambodia, Korea, India, Indonesia, Sri Lanka, Taiwan, Thailand, Turkey and Pakistan.

From September 2018, Leather World Paris will be held at the same venue and time.

Leather World Paris will contain tannery as well as finished leather goods. These will range from leather garments to accessories such as bags, shoes and other fashion products. Over the years a large number of leather brands have been requesting a section of leather inside the show.

Bernard Botejue Industries, EL Holding, JIA Moda, Kuga Holdings, Screenline Private Limited, Stylish Garments and will represent apparels while Buddhi Batiks & Handicrafts, Conscience Design will represent designers at the exhibition in September.