---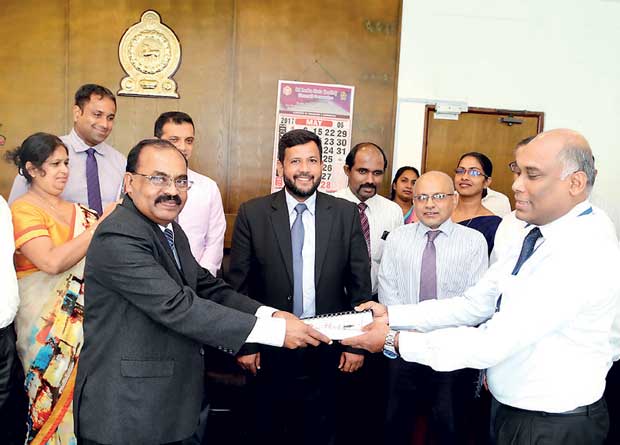 Registrar General of Companies D.N.R. Siriwardena (left) and Partner of KPMG Sri Lanka C.P. Jayatilake (right) exchanging the eROC MoU in the presence of the Minister Rishad Bathiudeen (centre)
Turning a new page in Sri Lanka's business history, the entire company registration process is to be fully automated thereby slashing the waiting period for the birth of a new company.
"The groundwork has been going on for this e-Registration of Companies Project (eROC) for some time and today I am pleased that we are launching work on this pioneering initiative in Sri Lanka's business sector," said the Minister of Industry and Commerce Rishad Bathiudeen yesterday.
Minister Bathiudeen was addressing the MoU signing event of eROC project between the Department of Registrar of Companies (DRC) under his ministry and KPMG Sri Lanka, the supplier of the automated solution.
The total number of companies registered in Sri Lanka (under the Companies Act) surged by 11 percent to 85587 in 2016, from 77116 in 2015.
"This project is part of the business development vision of the Unity government. We are not starting this work using any taxpayers' money but are using funds only from our own Company Registrar."
The eROC envisions the entire company registration process (such as Ltd, Pvt Ltd, Guarantee Ltd, etc) done by DRC-currently around three days- is to be fully automated and waiting period for the birth of a new firm drastically reduced to just one day. The cost of Rs 57 million is funded by the Companies Fund of the Department.
The project is executed by KPMG Sri Lanka for DRC under Ministry of Industry and commerce. The online system is scheduled to go live in March 2018. All the required documentation could be submitted online as well as payments too could be made online.
"The main objective is to reduce unnecessary time consuming paperwork and help more startups registration as well as to speed up the process," said Registrar General Siriwardena and added: "This does not result in any discontinuation of current manual process, anyone still wishing to register their firms as usual. Even foreigners can register their companies in Sri Lanka from their countries, by paying through the nominated credit cards. Once online application is paid and successful, the Certificate of Incorporation will be posted to the registrants address if requested."
Since this is an end-to-end automation of functions of the Department, all the current transitions could be done online as well, even from abroad. The payment gateway is credit card empowered.
The DRC, in developing and fostering a trusted business environment, implements, administers and enforces the Companies Act No. 07 of 2007, the societies Ordinance (Chapter 123), The Public Contract Act No. 03 of 1987 and Cheetu Ordinance.