---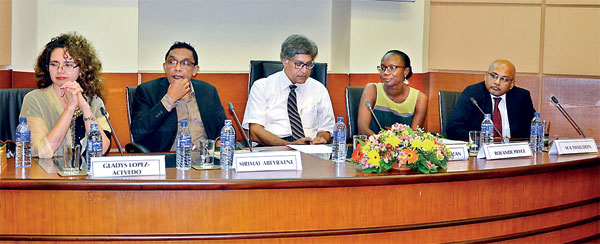 By Udara Liyanarathna
A recent World Bank report revealed that Sri Lanka's apparel prices are higher than its competitors in all major product categories, driven at least partly by relatively high and rising labour costs.
Accounting for US $ 4.4 billion of its exports, Sri Lanka's apparel sector outperforms other South Asian countries in terms of quality, lead time, reliability along with social compliances and sustainability.
Though comparisons reveal that Sri Lanka's apparel prices are higher than its competitors, Sri Lanka produces more sophisticated apparel products and there is room for improvement on lead times and product range availability.
As China gradually scales back its apparel manufacturing as it tends to shift to more value added products, Sri Lanka stands to gain market share, but not as quickly as some Southeast Asian countries such as Cambodia, Vietnam and Indonesia.
"Stitches to Riches: Apparel Employment and, Trade and Economic Development", a research report by the World Bank on the Apparel Industry of South Asian Countries, launched recently in Colombo, revealed those facts.
In order to maximize its competitiveness and to position itself as a regional hub, the report suggested that Sri Lanka should implement the several policies.
Diversifying end markets and export destinations for existing products such as active wear and intimate apparel, by entering into more trade agreements and adopting clear investment policies to attract Foreign Direct Investments (FDI), diversifying by expanding into new products such as formal wear and high-end outwear that require higher levels of skill and relieving labour shortages by promoting industrial locations, such as tapping into more remote and war-torn areas in the North and East, and attracting more female workers.
Gladys Lopez-Acevedo, report co-author and a Lead Economist for the World Bank, commented: "Competition is increasing in the global apparels market with buyers moving towards greater consolidation in sourcing decisions and the impending approval of the Trans-Pacific Partnership, thus Sri Lanka should seize the opportunity and implement policies to become a regional leader."
Sri Lanka ranks third in terms of apparel export value (US $ 4.4 billion) and global market share (1.2 percent). Its apparel sector is largely made up of higher-value, niche products and exports are equally divided between cotton and manmade fibre-products.