---
Total outstanding debt in 2020 down to US $ 45bn, from US $ 50bn in 2019
In first two months of this year, SL settled US $ 1.1bn worth of foreign debt
Despite the endless drumbeat of economic calamity about to befall due to public debt, particularly the foreign currency-denominated debt, the data showed that the government had paid down a sizeable amount of foreign debt during 2020 and also in 2021 up to now, trimming its reliance on foreign debt.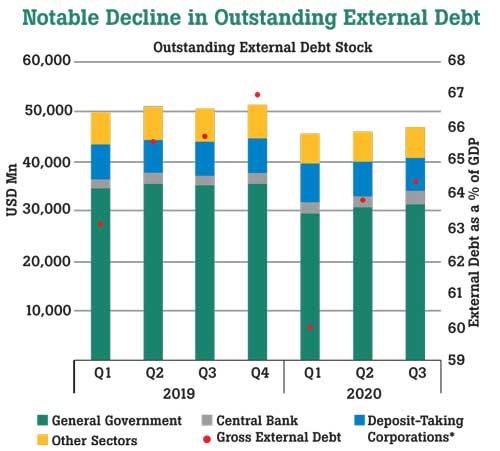 According to the data, the total outstanding debt stock peaked in 2019 to reach little over US $ 50 billion or 67 percent of gross domestic product (GDP) but in the following year, the government had reduced that debt stock to about US $ 45 billion or 64.5 percent of GDP.

This was amid the worst of the challenges caused by the COVID-19 pandemic-driven economic shutdowns and impaired access to international capital markets.

In fact, the pandemic and its resultant market tumult forced the government to find its finances to fund the budget, without resorting to foreign debt, which is often used to roll over retiring debt.

At the same time, historically low domestic interest rates gave enough wiggle room for the government to change its borrowing mix and thereby the mix of the debt stock during 2020 and beyond, as it resorted to the Central Bank liquidity for financing the budget.

Continuing its on-time debt servicing track record, Sri Lanka in January and February 2021 settled foreign debt worth of Rs.1.1 billion, including a US $ 400 million swap facility with the Reserve Bank of India.

That leaves the country with another US $ 3.1 billion worth of foreign-denominated debt to be settled this year, including the US $ 1.0 billion sovereign bond settlement due in July this year.
Both the Central Bank and government have expressed their confidence in meeting these obligations as they fall due and have brushed off any debt or economic crisis at present.

With the foreign currency debt settlement this year, Sri Lanka will reduce its mix of outstanding debt stock from 45:55 between the foreign and domestic debt to 40:60, further minimising its reliance on foreign debt.

While there are caveats in the journey such as dwindling foreign exchange reserves, the analysis of the bigger picture of total inflows and the outflows show that the country can manage its external debt and still maintain its reserves above US $ 5.0 billion level in 2021.

The merchandise exports are already performing better while the services export earnings are being undergirded by stronger remittances, IT/BPO incomes and emerging tourism inflows.
The prospects for direct investments remain bright with Colombo Port City and Hambantota port-related developments as well as industrial renaissance taking place around the country, resulting in higher FDI flows compared to 2020 levels.