---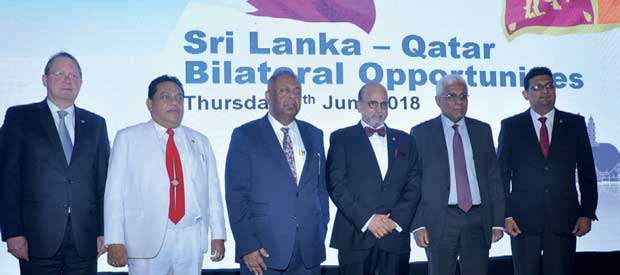 From left: Doha Bank Chief International Banking Officer Frank Hamer, Sri Lankan Ambassador to Qatar A.S.P. Liyanage, Finance and Mass Media Minister Mangala Samaraweera, Doha Bank CEO Dr. R. Seetharaman, Central Bank Governor Dr. Indrajit Coomaraswamy and Doha Bank Chief Representative Officer in Sri Lanka Eranda Weerakon
Pic by Nisal Baduge
Sri Lanka's remittance earnings from Qatar is likely to double over the years as the number of Sri Lankan migrant workers in Qatar is expected to reach 300,000, from the current 140,000, in the next couple of years.

Speaking at the launch event of the representative office of Doha Bank in Sri Lanka, Central Bank Governor Dr. Indrajit Coomaraswamy said that he was informed that the Sri Lankan migrant worker number in Qatar might increase to 300,000, from the current 140,000, over the years.

According to Qatar Sri Lankan Ambassador A.S.P. Liyanage, the Sri Lankan worker remittance in Qatar accounts for US $ 400-500 million, out of US $ 7.16 billion worker remittance recorded in 2017.
Liyanage also announced that the UAE-based retail giant, the Lulu group, has agreed to recruit 30,000 Sri Lankans for their hyper market chain in the Middle East. Sri Lanka's worker remittances, the country's largest foreign exchange earner, declined 1.1 percent year-on-year in 2017, due to the crises in the Middle East. However, the worker remittance rebounded in 1Q 2018, with a growth of 3.5 percent.

Speaking to Mirror Business, Doha Bank Sri Lanka Repo Office Chief Representative Officer Eranda Weerakoon said that Doha Bank has invited Sri Lankan banks to set up their windows at Doha Bank in Qatar, to provide financial services for the Sri Lankan workers in Qatar.
Meanwhile, addressing the gathering, Finance and Mass Media Minister Mangala Samaraweera emphasised that Colombo International Financial City (CIFC), the special financial zone at the Colombo Port City, will attract banks and other financial institutes to set up their offices, including global headquarters.

"International Financial Centre (CIFC) at the Colombo Port City will provide cutting-edge infrastructure and regulatory framework to encourage banks and financial services companies to set up their offices and even global headquarters here," he said.

Samaraweera invited Doha Bank to set up its regional office at CIFC while assuring that the best operating environment will be provided.

"In addition to the world-class facilities and highly liveable conditions, I would say with all due respect to my friends in India, we are the most pleasant and calming city you could live in the subcontinent," he further said.

While welcoming Doha Bank in Colombo, Coomaraswamy pointed out that a fraction of US $ 350 billion of sovereign fund of Qatar could help Sri Lanka to transform its economy.

"I think it's very timely that Doha Bank has taken the initiative to open its repo office and with the possibility of translating to a full branch in few years, once the repo office builds some brand equity in Sri Lanka," he said.

Coomaraswamy noted that the Sri Lankan and Qatar governments have indentified many areas for collaboration between the two countries. (NF)