---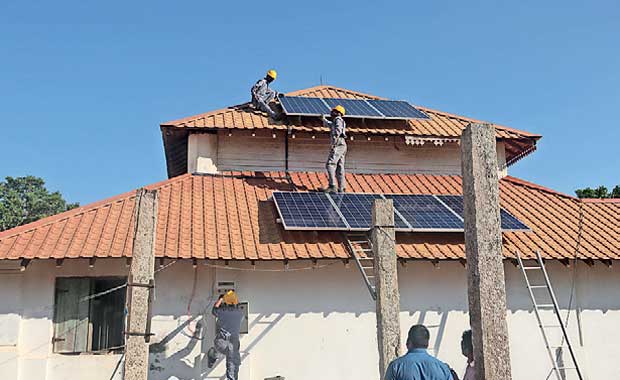 Solar power solutions provider JLanka has taken an initiative to install solar photovoltaic systems to the country's major religious places of worship and religious institutions.
Accordingly, five major scared sites of historic and sacred Atamasthana in Anuradhapura, including Jaya Sri Maha Bodhi, Ruwanweli Seya, Thuparamaya, Abhayagiriya, Jetavanaramaya, Mirisavetiya, Lankaramaya and Sri Dalada Maligawa (Temple of the Sacred Tooth Relic), Malwathu Maha Viharaya, Asgiri Temple, Thanthririmale Rajamaha Viharaya, Somawathi Rajamaha VIharaya and Bellanwila Rajamaha Viharaya will be solar powered under the project.
Further, Archdiocese of Colombo, Muslim Mosque in Galle, Sabaragamu Maha Saman Devalaya, Nallur Kandaswamy Temple Jaffna and Koneswarama Temple are also included to be powered with solar photovoltaic systems under the project.
Solar power engineers highlight that churches are ideal places for solar panels. In a benefit, unforeseen by medieval architects, the traditional east-west structure, with the altar at the east end of the nave, calls for a long, south-facing roof with a pitch that perfectly captures sunlight.
This initiative of JLanka Technologies will help the religious places and temples at large to bring down their energy and utility bills while contributing to a greener and a more sustainable environment, which will also indirectly motivate the devotees to switch to renewable energy.
Experts outline that over the past six years, the cost of solar energy has dropped dramatically, to the point where it is now even cheaper than wind power in emerging markets like in Sri Lanka, China and India. This may be largely due to the rising investments in solar over the last few years. This is great news for developing nations like Sri Lanka, which do not generally have the kind of infrastructure that the developed countries have dedicated to fossil fuels already in place.
JLanka's humble beginning date back to the year 2010, with significant investment to research and development (R&D) with five people to make advances in clean energy technologies. The company is inviting many other religious premises to be a part of this movement, which enables those premises to manage their electricity cost while contributing to a greener and more sustainable clean energy movement.
JLanka has tirelessly worked towards realizing this vision during the past six years, encouraging and educating the public of the long-term benefits of solar solutions, while at the same time investing in the latest international technologies, continuously improving on products and solutions. The perfect combination of deep knowledge in the subject and risk-taking has resulted in the company's rapid pace of success during a short period of time. Other novel concepts have also been introduced by the company, such as rechargeable batteries and energy storage, continuously reducing consumer tariffs and the demand on the national electricity grid.