---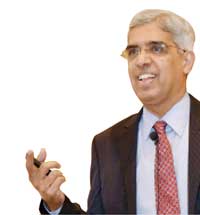 Sri Lanka's growing mobile usage and internet penetration have left the country's financial services sector and its customers vulnerable to cyber threats and therefore the sector must be proactive in managing those evolving risks, according to a top official from a multinational professional services firm.

According to Deloitte Touche Tohmatsu, India, Partner A.K. Viswanathan, banks appear to be overlooking the risks posed by the cyber threats and therefore said it was time the banks had raised their level of readiness in cyber security risk management to stay more secure, vigilant
and resilient.

While they must be vigilant by improving their ability to detect emerging threats and anomalous patterns amid the highly complex and data-saturated environment, entities in the banking and financial sector must be resilient so that they are able to recover from attacks as quickly as possible,
minimizing direct and indirect damages," said Viswanathan. Speaking at a seminar on cyber risk for the banking sector in Sri Lanka hosted by SJMS Associates, Viswanathan stated that technological trends and a shift to digital business, accompanied with the revolution in smart systems have caused a massive repositioning of the financial services market. The repositioning according to him has resulted in a shift towards an automated process driven business model from a fundamentally labour based model. Furthermore, it was stated that regulations were making it harder for companies to innovate and to grow, while legacy strategy, infrastructure, and thinking were preventing banks from responding aggressively to the growing threats.

"Cyber-attacks on financial services companies are increasingly diverse and therefore unpredictable. They are here to stay. When the attack severity increases, it may be likely that only a resilient and flexible cybersecurity model can prepare financial services companies to survive the inevitable cyber risks," stated Vishwanathan.

Cyber security is the top most risk faced by the bankers around the world.
Sri-Lanka became the first country in South Asia to join the Budapest Cybercrime Convention, which was the only international treaty on cyber-crimes globally. The nation ranks 8 and 19 for cyber-attacks and data theft and fraud, with a score of 16 and 8, out of top 28 risks identified globally. (SAA)