---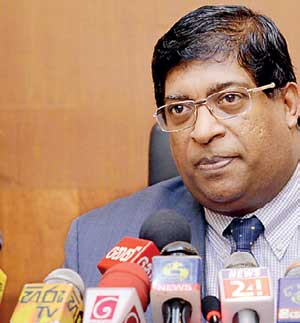 Sri Lanka is slated to achieve an average economic growth of 6.5 percent by the year-end, despite the debt trap and adverse global economic conditions, Finance Minister Ravi Karunanayake said yesterday. "Sri Lanka is slated achieve a growth rate between 6.2 percent and 6.8 percent by the end of the year while the average growth rate would be 6.5 percent." Sri Lanka's economy grew 4.8 percent in 2015 against 4.9 percent in 2014, amid the contraction in the construction sector with the election of the new government. Karunanayake who was pointing the finger at former President Mahinda Rajapaksa for the current state of economic affairs said, the figures which Rajapaksa claimed as borrowings made during his reign were false.
Noting it is apparent that Sri Lanka is lacking access to vital markets, which could be the key to a growth in the local tea industry going forward, it was stressed that a Tea hub, such as in Dubai, with necessary security and regulations, is essential and could benefit the expansion of the local tea industry, enabling significant trade with a wider cross section of countries globally. "If the local tea industry intends to keep up with the resulting competition this is vital. It should not rest on its historical laurels, but must seek to command a significant presence as a diversified market leader in all aspects of the expanding global tea market," Ceylon Tea Brokers said. Sri Lanka's tea exports in 2015 fell 21 percent year-onyear to 306, 965, 763 million kilograms (Mkgs). The sharp dip was attributed to Sri Lanka's tea exports' continuous reliance on oil producing countries. Russia, Sri Lanka's largest export destination, significantly reduced its purchases as a result of the economic sanctions imposed on the country.
Political unrest in some of our major export markets has also affected the market, mainly Iraq, Libya & Syria. Out of the four biggest tea importing countries in the world, Pakistan, Russian Federation, USA and U.K, Sri Lanka was market leader only in Russia, up until 2014. The industry cautions that in 2015 the nation is likely to lose its No. 1 position to India in the Russian market. Cumulative exports to Russia from Sri Lanka till last September was recorded as 26, 570 MT, whereas India had exported 32,000 MT.
The local tea industry enjoyed successful years in 2013 and 2014 due to the boom in oil prices which went up to US$ 115 per barrel in June 2014. However, the subsequent decline in global oil prices, and economic challenges faced by some of the oil exporting countries led to the decrease in prices per kg as well as volume. In 2015, Pakistan was the biggest tea importer in the world whereas Russian imports declined. Pakistan, USA and U.K have increased their import volume year-on-year.