---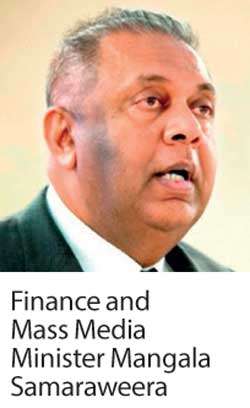 (Colombo) REUTERS: Sri Lanka plans to increase government spending by 13.2 percent from last year to Rs.4.47 trillion (US $24.51 billion) in 2019, the Finance and Mass Media Ministry said yesterday.

The government of Prime Minister Ranil Wickremesinghe-led centre-right United National Party (UNP) has planned some key economic projects to win votes from rural areas, where nearly 70 percent of the island-nation's voters are registered.

The government also plans to maintain the 2019 budget deficit at 4.8 percent of Gross Domestic Product (GDP), the ministry said in a statement, unchanged from an estimated 4.8 percent in 2018.

Finance Minister Mangala Samaraweera has also sought Cabinet approval for Rs.2.1 trillion borrowing next year, up 10.5 percent from its estimate for 2018. The government must repay a record US $5.9 billion this year, including a US $3-billion fresh borrowing, the Central Bank Governor Dr. Indrajit Coomaraswamy said, last week. The government, however, has not revised its medium-term budget deficit target of 3.5 percent GDP in 2020.

Since a 51-day political crisis in the last quarter, the government has been struggling to boost investor sentiment.

Sri Lanka is due to hold a presidential poll before end-November and elections for the provincial council are also due, but the dates have not been fixed yet due to some administrative issues.
Samaraweera will present the 2019 budget on March 5, the statement said.

The International Monetary Fund in June said Sri Lanka's economy remains vulnerable to adverse shocks because of sizable public debt and large refinancing needs.