---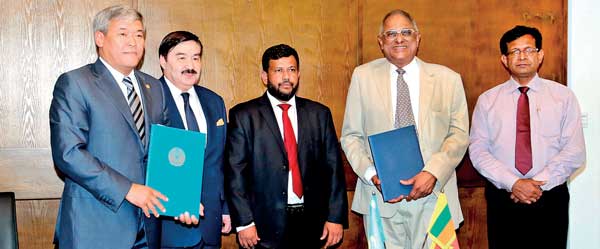 Minister Rishad Bathiudeen (third from left) after witnessing the signing of agreement between Sri Lanka and Kazakhstan for Sri Lanka's participation at forthcoming Expo 2017 in Astana, Kazakhstan, at the Ministry of Industry and Commerce, joined by Commissioner of International Specialised Exhibition Expo 2017 Rapil Zhoshybayev (far left- signatory for Kazakhstan), New Delhi based HE Ambassador of Kazakhstan to Sri Lanka Bulat Sarsenbayev (second from left), Huejay International Chairman Hubert Jayakody (second from right- signatory for Sri Lanka) and Secretary to Ministry of Industry and Commerce TMKB Thennakoon (far right)
Sri Lanka has agreed to partner with one of the largest export exhibitions in the Eurasian Economic Union (EEU) region on August 12th.

As a result, almost five million visitors attending the largest global export exhibition in the EEU region will be sampling the Lankan export portfolio for a three month long period in Astana.

"Astana EXPO-2017 is a valuable opportunity for both countries to commence new trade which is at present at a very low US $5 million," said Minister of Industry and Commerce Rishad Bathiudeen.

Minister Bathiudeen was addressing Commissioner of International Specialised Exhibition Expo 2017, Rapil Zhoshybayev, who was meeting him along with New Delhi based Ambassador of Kazakhstan to Sri Lanka Bulat Sarsenbayev at the Industry and Commerce Ministry.

The duo was meeting Minister Bathiudeen who was witnessing the signing of the agreement between Sri Lanka and Kazakhstan for Sri Lanka's participation at forthcoming Expo 2017 in Astana.

The signatories of the agreement were the Commissioner of International Specialised Exhibition Expo 2017 Rapil Zhoshybayev (for Kazakhstan) and Hubert Jayakody (Chairman - Huejay International -signatory for Sri Lanka and the official organiser of Lankan delegations)."The forthcoming Astana EXPO-2017 in Kazakhstan will be a great opening for Lankan products" said Commissioner Zhoshybayev addressing Minister Bathiudeen.

"Kazak Expo 2017 will be taking place from June 10 to September 10. Some Heads of States also will participate in this. We expect about five million visitors from Kazakhstan and abroad in the three month period of the expo. We are building an airport, separate city and a railway station for this Expo specially. With US $ 300 million, we build an expo village to be later converted to an international financial centre,"
he added.

According to the Department of Commerce, in 2015 Lanka-Kazak bilateral trade stood at a very nominal US $ 4.8 million.
At present, Sri Lanka imports only one product from Kazakhstan, that
is asbestos.