---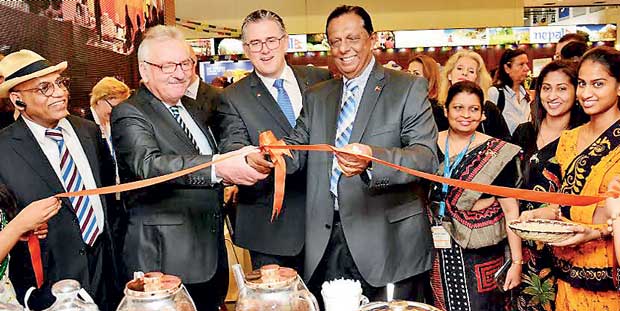 Minister of Tourism Development John Amaratunga along with Members of the German Parliament, Michael Donth and Jurgen Klimke officially opening the Sri Lankan pavilion
The Sri Lanka pavilion was a star attraction at the ITB Berlin 2017 international travel show which opened in Germany this week.
The eye-catching Sri Lankan pavilion was declared open by Tourism Development and Christian Religious Affairs Minister John Amaratunga.
Among those present at the inauguration included Sri Lanka's Ambassador to Germany, Karunathilaka Amunugama, Sri Lanka Tourism Chiarman Paddy Withana, Sri Lanka Tourism Promotion Bureau officials and key tourism stakeholders in Sri Lanka.
Secretary General of UNWTO, Dr. Taleb Rifai and Members of the German Parliament, Michael Donth and Jurgen Klimke were amongst the host of VIPs present at the opening ceremony.
Sri Lanka Tourism is utilising all resources in order to leverage ITB Germany which is one of the biggest travel fairs in the world to capture the German market which is now looking for new options in the wake of various issues plaguing some of its popular outbound destinations.
In his opening remarks, Tourism Minister John Amaratunga commented on the attractiveness of the Sri Lanka pavilion which featured an open design concept complemented with eye catching image of Sri Lanka.
He spoke of the diverse attractions the country has to offer and the climate of security that tourists could expect in Sri Lanka as opposed to some of the other destinations.
German Member of Parliament Klimke appreciated the peaceful collaboration of all cultures and religions in Sri Lanka which had created a melting pot of cultural diversity.
He singled out the positive vibes in the tourism sector with regard to Sri Lanka's focus on sustainability and preservation of nature whilst developing the tourism sector. He predicted a bright future for tourism in Sri Lanka. "ITB is the most resourceful and wealthiest travel mart in Europe, estimated to be worth 100m German speaking people in and around Germany. Our tourism industry should work together to capitalize on this market and help it grow from a US $ 3.5 billion industry to a US $ 10 billion industry," said Sri Lanka's Ambassador to Germany, Karunathilaka Amunugama.
Also speaking at the inauguration Chairman, Sri Lanka Tourism Paddy Withana focused on the strategic importance of ITB to deepen and widen European interest in Destination
Sri Lanka.
Following the inauguration, the Sri Lankan delegation led by Minister Amaratunga was expected to meet leading German tourism industry officials to promote Sri Lanka as both a leisure and MICE destination while also encouraging tourism operators to invest in tourism related activities in the country.
A large tourism industry contingent representing the travel, tourism and hospitality sectors in Sri Lanka is participating at this year's ITB.