---
Eight hundred thousand hectares of paddy land sowed this Maha season
Agri Ministry says mechanisation a must going forward
PPP project on the pipeline to setup mechanisation centres across the island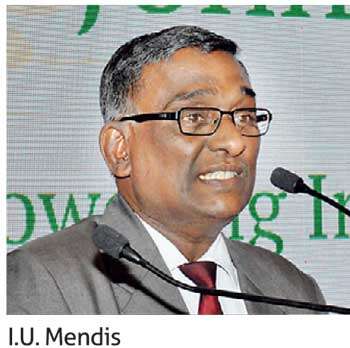 By Nishel Fernando
Sri Lanka expects a bumper harvest of 3.33 million metric tonnes of paddy output in the key Maha season (2018/19), a 40.2 percent year-on-year (YoY) increase, as weather conditions continue to normalise across the island.

Speaking to Mirror Business on the sidelines of Dave Group - John Deere media briefing held in Colombo yesterday, Additional Secretary to the Ministry of Agriculture, I.U. Mendis revealed that the sowing target of 800,000 hectares for 2018/19 Maha season has been achieved.

"I think we have achieved the sowing targets by now. If the cultivation is successful without any major impact from pest or natural disasters, we will be able to reach 3.33 million metric tonnes of paddy output in the 2018/19 Maha season," he said.
If the forecasted harvest targets are achieved, the Maha output will be sufficient for over 10 months of consumption.

Mendis noted that the forecast is based on an average yield of 4.2 MT per hectare.

Sri Lanka's rice production has been improving with normalisation of weather since end of last year, following six consecutive seasons where the rice production slowed down due to adverse weather conditions.

Mendis said during last (2017/18) Maha season, Sri Lanka cultivated around 600,000 hectares of paddy. However, considering the continuance of favourable weather, he noted that the Agriculture Ministry had decided to sow the full extent of paddy lands.

"If we don't undergo any unexpected situation, we will get a very good yield," he stressed.

Meanwhile, Sri Lanka's rice harvest in Yala season this year increased by 55 percent to 1.413 million metric tonnes with the normalisation of weather patterns, according to Department of Agriculture.

The 2017/18 Maha season also saw the paddy harvest increasing by 62 percent YoY to 2.397 million metric tonnes.

Mendis revealed that a programme has already been finalised by the Paddy Marketing Board to purchase the paddy output from farmers next year, and assured that necessary funds would be allocated to the Paddy Marketing Board soon.

He said that despite the current political turmoil in the country, the projects under the Agriculture Ministry are moving forward as usual.

Mendis highlighted that Sri Lanka must embrace mechanisation "willingly or unwillingly" to address the prevailing issues in the sector, which include low productivity levels, post harvest losses, labour shortages and high labour costs.

"In early 1980's, the contribution of the agriculture sector to GDP was 56 percent, and 51 percent of the labour force was employed in agriculture. The contribution to GDP has come down to 6.9 percent today, and the total labour force in the agriculture sector has come down to 29 percent. That's why mechanisation is so important," he said.

According to Mendis, the labour cost contribute for around 50 percent of cost of production in the sector while post production losses amount to 30-40 percent of crop output, in particular vegetables and fruits.

In addition, the disruptions of wild animals also cause an estimated 10-20 percent losses in agricultural output.

Despite the introduction of two wheel tractors to Sri Lanka's agriculture sector in late 1960's, the shift to mechanisation has not made any significant progress over the years.

"The mechanisation is very low; however, it's improving little by little because people are experiencing problems in terms labour and dwindling productivity levels," Mendis said.

According to Department of Agriculture's 2016 statistics, Sri Lanka had 170,000 two-wheel tractors, 54, 000 four-wheel tractors and 14, 000 combined harvesters.
However, Mendis noted that the annual requirement of two-wheel tractors remains around 10,000 and 3, 400 - 4, 000 for four wheel tractors.

The academics have identified that lack of concessions in terms of import taxes since 1970's, as a major barrier for mechanisation to expand Sri Lanka's labour-intensive agricultural sector.

The Department of Agriculture together with the Ministry of Agriculture recently came up with a pilot project to boost mechanisation in Sri Lanka's agriculture sector from next year onwards, in a bid to boost low productivity as well as to attract more youth to the sector.

"We have come up with a proposal to open up machinery centres across the island. The government will provide lands and basic facilities; the private sector entrepreneurs will run these centres. First, we will implement a pilot project next year. Thereafter we will expand based on its success," Mendis added.