---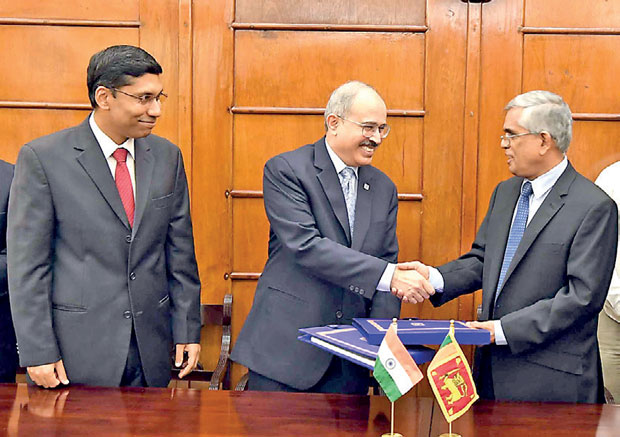 Finance and Mass Media Ministry Secretary Dr. R.H.S. Samaratunga and Export-Import Bank of India Managing Director David Rasquinha exchange agreements in the presence of Indian Deputy High Commissioner Arindam Bagchi
Sri Lanka yesterday signed an agreement to borrow US $ 318 million from India for the development of the railways sector, a Finance Ministry statement said.
Indian Prime Minister Narendra Modi during his first visit to Sri Lanka in March 2015 had declared a fresh line of credit amounting to US $ 318 million for the development of the railway sector in Sri Lanka.
The Indian government has already provided four lines of credit for the development of the railway sector in Sri Lanka through its export-import (Exim) bank amounting to approximately US $ 966 million.
These credit facilities have been utilized to improve the southern and northern railway lines and for the procurement of rolling stocks for Sri Lanka Railways.
Sri Lanka Railways, which is under the supervision of the Transport and Civil Aviation Ministry, will implement the projects.
The ministry has identified that improving the passenger transportation facilities is an urgent requirement to attract more passengers towards railway transportation, which is efficient and cost-effective.
Further, reducing congestions in railways by improving rail tracks and signalling systems is also a key requirement to promote passenger and freight transportation.