---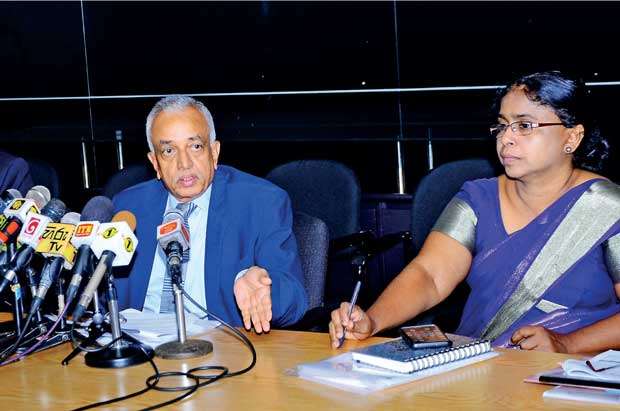 BOI approves projects exceeding US $ 1bn

Export earnings surpass EDB targets

Three trade zones in pipeline for this year

BOI approves US $ 500mn LNG project by CMEC
By Nishel Fernando
Sri Lanka has attracted US $465 million in Foreign Direct Investment (FDI) in the first quarter of 2018 (1Q18), exceeding the Board of Investment (BOI) target of US $378 million for the period, Development Strategies and International Trade Minister Malik Samarawickrama told reporters in Colombo, yesterday.

He said during the three months, the BOI approved US $ 1 billion worth of new projects, with the BOI giving approval for a US $ 500 million LNG project by China Machinery Engineering Corporation (CMEC) in Hambanthota.

According to BOI data, infrastructure projects have brought in US $201 million worth of FDI to the country while utilities projects have attracted US $157 million followed by manufacturing, tourism & leisure and apparel, at US $42 million, US $46 million and US $16 million, respectively.

Speaking on the new export processing zones in the pipeline, Minister Samarawickrama said that the government is planning to finalise the agreement with the Thailand-based Rojana, a joint venture between Japan's Nippon Steel and Thailand's Vinichbutr Group, to develop the Milleniya free trade zone.

He also noted that the government is seeking Japanese investors to develop the 400-acre Bingiriya free trade zone and the 165-acre Mawathagama free trade zone, where the construction is set to begin within this year.
Meanwhile, Samarawickrama also revealed that merchandise exports recorded a 6.3 percent growth in 1Q18 to reach US $ 2.91 billion against US $2.74 billion recorded in the corresponding period a year ago, achieving the 22 percent export target of the year set by the Export Development Board (EDB).

The overall exports, which include service exports, grew by 6.7 percent to US $3.93 billion. The government has set a target to achieve US $17.4 billion in overall exports this year.

According to EDB figures based on Customs data, apparel and textiles exports during 1Q18 grew by 4 percent year-on-year (YoY) to US $1.324 billion from while tea exports grew 5.2 percent YoY to US $ 363.15 million.

Rubber and rubber-finished products exports grew by a healthy 9 percent YoY to reach US $236.9 million while coconut and coconut-based products exports grew marginally by 0.8 percent to reach US $147.5 million.

Electrical and electronics exports grew by 10.7 percent YoY to US $100.6 million while exports of petroleum products grew by 45.5 percent YoY to reach US $79.3 million.

Exports to the United States (US) recorded a growth of 6 percent to reach US $782 million while exports to the United Kingdom (UK) declined by 1.09 percent YoY to US $270 million. Exports to Germany, India and China grew by 23 percent, 5.8 percent and 0.3 percent YoY to US $153.9 million, US $182 million and US $ 51.7 percent, respectively.

Samarawickrama noted that since the Yahaplayana regime came into power in 2015, the overall exports have grown from US $12 billion in 2015 to US $15.15 billion in 2017.
---
Bilateral trade talks steaming ahead
Meanwhile, the Secretary to the Development Strategies and International Trade Ministry, Chandani Wijewardane said the Sri Lankan and South Korean governments are planning to start negotiations for a trade and investment agreement shortly, which could potentially lead to a free trade agreement (FTA).

Responding to media queries, Wijewardane said that the seventh round of Sri Lanka-China FTA talks is likely to be held in June after almost 9 months while the Economic and Technology Co-operation Agreement (ETCA) talks with India are scheduled to commence by the end of May.

The FTA talks between Sri Lanka and Thailand are also scheduled to commence in June with the scoping session.

Minister Samarawickrama stressed that Sri Lanka-Singapore FTA, which is set to come into force from May 1st, has sent a strong message to the world that Sri Lanka is open to reforms and committed to liberalisation of its economy.