---
Sri Lanka has appointed seven lead managers for a sovereign bond worth up to US$1.5 billion and could tap the capital market as soon as next month, a source close to the deal said this week.
Finance Minister Ravi Karunanayake said the government was looking to issue a bond with a term of more than 15 years.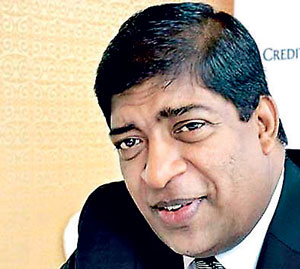 The banks are Citigroup, Deutsche Bank, HSBC, Standard Chartered Bank, Morgan Stanley and two Chinese institutions, the source, who has direct knowledge of the deal,
told Reuters.
A government source who also has knowledge of the deal confirmed the seven banks.
Karunanayake also said inflows from the bond, another US$1 billion from two syndicated loans, and US$500 million from Sri Lanka Development Bonds would be used to boost foreign reserves.
"We expect see a double-digit (billion dollar) reserves this year with the flows from asset leasing and some divestment from state assets," Karunanayake told reporters. Sri Lanka's foreign exchange reserves were at US$5.6 billion by end-March compared to US$6 billion at the end of last year.
Sri Lanka missed the reserves target set under the terms of a US$1.5 billion International Monetary Fund loan. The IMF last month urged Sri Lanka's Central Bank to rebuild foreign reserves while maintaining exchange rate flexibility.
- REUTERS