---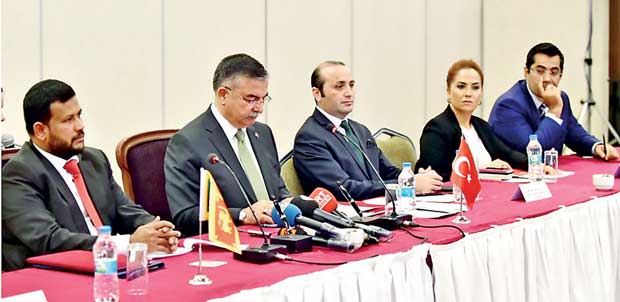 Trade talks between Turkey and Sri Lanka re-opened recently in Ankara-after 26 years, in a bid to enhance bilateral trade.
"Turkey is a very important trading partner for Sri Lanka. The strong relationship between the two countries has grown steadily over the past years," said Industry and Commerce Minister Rishad Bathiudeen in Ankara last week (11th), leading the Sri Lankan delegation.
Minister Bathiudeen delivered his opening statement at the second session of the Sri Lanka –Turkey Joint Committee Meeting of Technical and Economic Cooperation on this day. The Turkish side was led by Minister of Education of Turkey Ismet Yilmaz.
"Sri Lanka and Turkey have enjoyed 68 years of formally established diplomatic relations in the recent history. The initiative to establish the Sri Lanka- Turkey Joint Committee in 1991, is a land mark in our partnership," said Minister Bathiudeen.
"Sri Lanka's location in the heart of the Indian Ocean straddling Western and Eastern Asia has made us beneficiaries of inter-regional trade for centuries. The strategic importance of Sri Lanka as a regional hub in the realm of global commercial activity has been widely acknowledged. With a 2 billion population, South Asia is also a considerable market with growing significance. Sri Lanka has already Free Trade Agreements with Pakistan and India. At the moment negotiations are also underway to conclude free trade agreements with China and Singapore. It is evident that through these agreements Sri Lanka provide a stepping stone to reach out to a huge market.
The value of total trade turnover between the two countries has increased from US$ 97 million in 2005 to US $ 230 million in 2015. Tea is a major item and the value of tea export to Turkey in 2015 accounted for 76 percent of Sri Lanka's total exports. The value of Sri Lanka's imports from Turkey has also been increased in the recent years reaching US$ 50 million in 2015. The major items of imports from Turkey are plastics, miscellaneous edible preparations. Turkey invested US$ 2.5 million FDI in Sri Lanka from 2010 to 2015 and ranks 45th position among FDI sourcing countries to Sri Lanka. Tourism is another area that brought people-to-people contacts as Turkish Airlines flies from Istanbul to Colombo direct."
"Let us target trade volume to $500 million by 2020," said the Turkish Minister Ismet Yilmaz, and added: "Relations between both countries span a broad range of aspects. During the day's meeting we finalised many areas of cooperation, which is a positive development."
Bilateral trade between the two countries is on a growing trend, registering an increase of around 135 percent by 2015 when compared to 2005.