---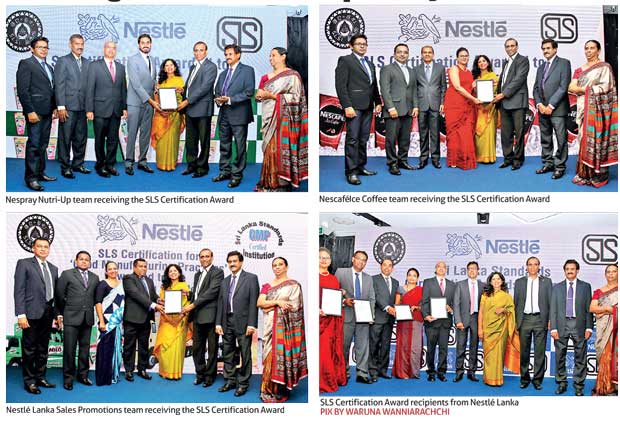 Nestlé's Maggi Coconut Milk Powder, Nespray Nutri-Up and Nescafé Ice CoffeeRTD (Ready-To-Drink) were recognized for their high quality standards at the recent SLSI (Sri Lanka Standards Institution) Certification Awards.
The company's Sales Promotions department also received the SLSI Certification for 'Good Manufacturing Practices' for sampling operations, making it the first such operation in Sri Lanka to do so.
SLSI is the National Standards Body in Sri Lanka and a member of the International Organisation for Standardisation (ISO). An SLSI Certification signifies that a product is manufactured in compliance with Sri Lanka standard specifications, and can be purchased with an assurance of quality. Continuous compliance is assured by regularly monitoring the company's quality assurance system via audits and product testing.
Pradeep Gunawardana, Chairman of the Sri Lanka Standards Institution said, "Nestlé Lanka's relationship with SLSI goes back to over 30 years. I would like to congratulate the company for working together as a team to successfully take up the challenge of obtaining the SLS Certification. By achieving these certifications, the company has gained a label of recognition for complying with quality management standards. I am confident that Nestlé Lanka will maintain their high levels of standards"
"The SLS product certification mark is a symbol of quality, with the product being certified by an independent government body," said T.G.G. Dharmawardana, Director General of the Sri Lanka Standards Institution. "The people of Sri Lanka can purchase Nestlé Lanka's products with more confidence."
Other Nestlé products with SLSI Certification are Nestlé Cerelac and Nestlé Milkmaid.
Nestlé employs the strictest quality control measures in its manufacturing process via stringent product hygiene and food safety standards, thorough quality checks at each stage of its manufacturing processes, and comprehensive testing in accordance with local and international food safety laws and standards.
The company's strict quality controls are also extended to its suppliers. Nestlé provides support in training their suppliers on quality and food safety, and conducts regular audits and analysis to ensure their quality standards are adhered to.
Shivani Hegde, Managing Director for Nestlé said, "For over 110 years in Sri Lanka, the Nestlé name on a product has been a promise to consumers that it is safe to consume and that it meets high standards of quality. We're extremely pleased that our stringent quality standards have been recognized by the SLSI."
SLSI certified Maggi coconut milk powder made from quality Sri Lankan coconuts, provides convenience to consumers and an authentic traditional taste preferred by housewives. Maggi coconut milk powder is versatile, making it ideal for any kind of cooking;Nespray Nutri Up,comes with the wholesome goodness of Sri Lankan fresh milk and is enriched with Vitamins A & D. Priced at only Rs. 40, Nespray Nutri Up offers on the go milk nutrition to school going children;Made from the finest coffee beans and locally procured fresh milk, NescaféIce coffee offers great taste, simple convenience and the ability to consume on the go, to Sri Lankan youth.