---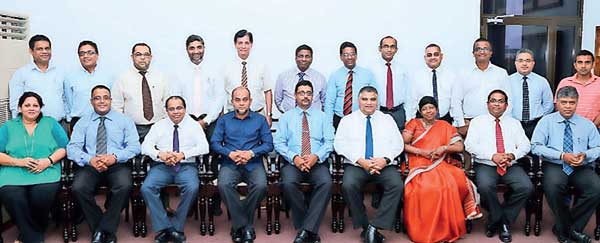 Left to Right (Front): Niloufer Anverally, MD of Cotton Collection, Dinesh Perera, Deputy Director Abans plc./ Asst. Secretary SLRA, Murali Prakash, Group MD/ CEO Taprobane Group/ Vice President SLRA, Hussain Sadique, Chairman SLRA / Deputy MD Hameedia Group, Suresh Perera, Principal-Tax & Regulatory, KPMG , Ajith Amarasekara, CEO Swarnamahal Jewellers/ Asst. Treasurer SLRA, Kaushalya Perera, Director D. Samson & Sons/Sector Chair-SLRA footwear, Sidath Kodikara, CEO Cargills Foods Company / Vice President SLRA, Charitha Subasinghe CEO Jaykay Marketing Services (Keells Super / Treasurer SLRA.
Left to Right (Behind): Saman Lal, Group Financial Controller, Thilakawardhana Textiles, Nasser Majeed, CEO Softlogic Retail, Rizwi Thaha CEO Cool Planet/Sector Chair-SLRAfashion, Infiyaz Ali, GM-Retail Healthguard Pharmacy Ltd, /General Secretary SLRA, Haroos Razak, Consultant Hameedia, Asoka Pieris, Group CEO Singer Sri Lanka Plc/Sector Chair SLRA durables, Leonard Perera,Retailers-Connect of SLRA, Udara Karunatilleke CEO Vogue Jewellers, Anuruddha Perera, Head of Customer Relations, Kandy Selection, Sajeewa RanasingheCEO Ceylon Leather Products PLC, Ahmed Hanafi AGM Nolimit and Lahiru Pathmalal Director Co-founder Takas.lk.
The inaugural founder membership meeting of the Sri Lanka Retailers' Association (SLRA) was held recently at the Ceylon Chamber of Commerce (CCC).

SLRA Chairman and Executive Committee appointed the CCC as the SLRA Secretariat and to provide secretarial services for the association. A Memorandum of Understanding (MOU) was signed between SLRA-CCC in this regard prior to the said meeting.

SLRA executive committee (ExCo) hitherto operating on Interim basis was confirmed and ratified by SLRA Founder membership at the said meeting. SLRA board of directors /executive committee comprise of office bearers of the association namely, Hussain Sadique, Chairman/President; Sidath Kodikara, Vice President; Murali Prakash, Vice President; Charitha Subasinghe,Treasurer: Infiyaz Ali-General Secretary: Dinesh Perera-Asst. Secretary; Ajith Amarasekera-Asst. Treasurer.
Further, SLRA Chairman and executive committee appointed Retail Sector Chairpersons of the association namely, Asoka Pieris, Sector Chair-SLRAdurables, Rizwi Thaha, Sector Chair–SLRA fashion and Kaushalya Perera, Sector Chair-SLRA at the said meeting.

SLRA budget proposals focusing to promote Sri Lanka as a retail hub and to plan a Colombo shopping festival similar to those held in Dubai, Singapore and Malaysia was presented at the meeting facilitated by Suresh Perera, Principal-Tax & Regulatory of KPMG for which suggestions/feedback was received from the founder members of the Association.

Krishan Balendra supported the fact that focusing on these two notions and the aspects linked to them would provide great exposure to the retail industry in Sri Lanka. SLRA officials will meet the Finance Minister to submit their budget proposal which includes the Sri Lanka retail hub project.
The Vice President of SLRA Sidath Kodikara, indicated that the retail attractiveness in Sri Lanka has enriched as per the GRDI (Global Retailers' Development Index). He further assured that the Association would continuously support the common interests of its members whilst further improving the retail standards of the country.

SLRA envisages to hold the Sri Lanka Retail Forum in 2017as an Annual Calendar event of the Association in future with the participation of guest foreign speakers/delegates to advance the cause of the Association.

SLRA was formed as an association in October 2015 and was incorporated in June 2016 as a company limited by guarantee. The objective of this Association will be to harness the resources of the organized retail industry to a common platform to promote and facilitate the futuristic Innovation, growth and global outreach. SLRA has an ambitious vision to "achieve retail excellence" and it strives to be the 'Voice of the Retail industry in Sri Lanka'.

The SLRA executive committee meets on the second Thursday of every month to discuss and plan and review their way forward in order to develop the retailing standards in Sri Lanka, and to bring together the resources of an organized retail industry to a single platform in a bid to nourish and promote innovation, growth and global reach of the industry.