---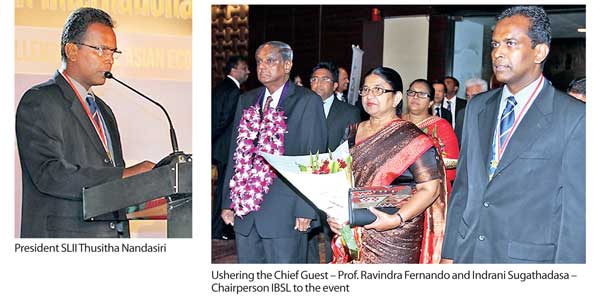 The 16th International Insurance Congress was organized by the Sri Lanka Insurance Institute and was held recently at the Cinnamon Grand Hotel, Colombo.

The SLII Insurance Congress is a prestigious and a much-anticipated annual event in the Sri Lankan insurance calendar. The ceremonial inauguration of the conference took place on 17th October whilst the technical sessions were held on 18th October. The main sponsors of the event was Munich Re India Services.
The theme of this year's congress was 'Challenges in the Asian Economy and its impact to the insurance industry'.

The Chief Guest at the inauguration was Prof. Ravindra Fernando - Senior Professor of Forensic Medicine and Toxicology, Faculty of Medicine, University of Colombo whilst the Guest of Honour was Indrani Sugathadasa, Chairperson- Insurance Board of Sri Lanka. The CEOs of insurance companies and broker companies in Sri Lanka and many overseas reinsurers and reinsurance brokers participated for this event. Amongst other distinguished invitees were the past Presidents of the Institute, Mayantha Dissanayake, Member of Parliament, and Dr. Wickrema Weeerasooria – Insurance Ombudsman to name a few.

The insurance legend Chandra Schaffter and senior insurance personality Sunil Siyasena were inducted to the 'Hall of fame'. Those who completed Chartered Insurance Institute (UK) qualifications, were awarded their certificates and the Indian Insurance Institute presented certificates to students who made outstanding performances at their exams.

The Congress dealt with five important topics for discussion with key insights from eminent local and international speakers on what and how Sri Lanka would face the challenges of the Asian economy and they included 'Infrastructure growth in Asia and insurance opportunities', 'Emerging lifestyles and digital innovation in Asia, enhancing insurance penetration', 'Challenges for the re-insurers in the Asian market' and'Insurance Solutions for an Aging Population– Challenges for Insurers'. The sessions also included a motivational session presented by the first Sri Lankan and the first Sri Lankan woman to summit Mount Everest–Jayanthi Kuru-Uthumpala.