---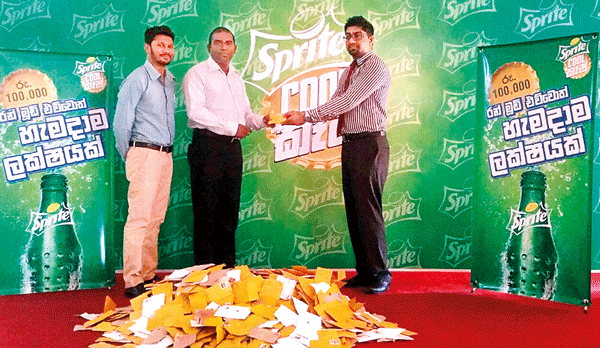 Sprite, the second largest sparkling beverage brand in The Coca-Cola Company's portfolio recently launched its exciting 'Cool Cash' under the crown promotion, which is set to run until April 4, 2016. Now consumers can savour the cool and refreshing lemon and lime flavours of Sprite and stand the chance to win cash prizes worth over Rs.10 million in total. The first grand prize draw was held recently in Biyagama by Lakshan Madurasinghe – Public Affairs and Communication Manager, Coca- Cola Beverages Sri Lanka Limited and T.A.Y.P. Tennakoon - Senior Tax Officer, Department of Revenue (WP).
The islandwide promotion is valid for 175 ml and 300 ml Sprite, Coca- Cola, Fanta Orange, Fanta Cream Soda, Fanta Portello and Lion Soda 300ml bottles and consumers who find golden crowns with a Rs.20, Rs.50 or Rs.100 mark, will be able to instantly redeem that amount in cash from their retailer. To add to the thrill of the promotion, consumers also become eligible to win a grand prize of Rs.100,000 each daily by sending their golden crowns containing "stand a chance to win Rs.100,000/-" to P.O. Box 6, Biyagama, and enter the grand prize draw. Throughout the duration of the promotion, such weekly draws will be held to select winners. To participate in the promotion, consumers can simply purchase the required bottle of Sprite from any retailer and check under the crown for a golden gleam.
All golden crowns can be used to win the instant cash prizes (which must be redeemed directly from the retailer where the bottle is bought) and consumers can also enter their golden crown into the grand draw. Sprite has a crisp, clean taste that is renowned for cutting through thirst. The brand has also become synonymous with a no-nonsense, honest and clear-cut attitude and has established itself as cool, hip and young brand that has aptly secured its place in the hearts of consumers across the country and the world.
Commenting on the under the crown promotion for Sprite, Sonu Grover, Country Manager Coca- Cola Far East Limited Sri Lanka said, "We are delighted to launch the under the crown promotion for Sprite – one of the best loved brands in Coca-Cola's portfolio. For decades, Sprite has been a source of ultimate refreshment for consumers and it has been a brand that has truly embraced fun and youthful energy.
Whilst we hope that this promotion will help us to maintain our top of mind recall, we also hope that it will create a fresh burst of hype and excitement around the Sprite brand in Sri Lanka." As per the terms highlighted for the promotion, all the necessary parties will be present for the grand prize draws and all winning consumers will be notified via telephone. A special hotline (0115- 115 777) has also been set up for the duration of the promotion to handle all inquiries.
Specific terms and conditions also apply for the promotion. For detailed terms and conditions, please visit www. lk.coca-cola.com Sprite is considered the world's most popular lemon-lime soda and is an important part of Coca-Cola's product portfolio both globally and in Sri Lanka. Locally, Sprite has been refreshing consumers throughout the island for decades, bringing them continuous moments of excitement, happiness and fun.