---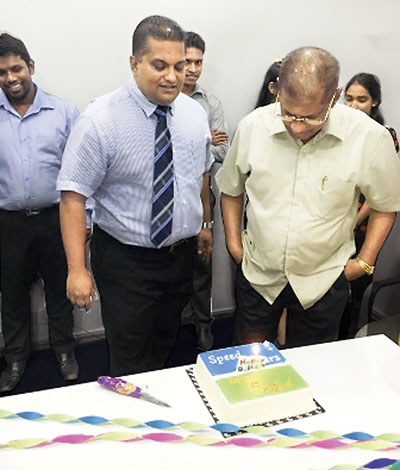 Speed Water Systems, a leading Sri Lankan company which produces purified bottled drinking water under the company's inspiring slogan "To make purified water more affordable and avaiable to all'' celebrates its 13th anniversary on the recently with the initiative of the Chairman Nalin Delgoda and Managing Director. Nishantha Delgoda at the Speed Water head office in Colombo 6.
Speed Water Systems Managing Director Nishantha Delgoda speaking about 13th anniversary said, it has been his privilege to serve the nation for 13 years giving the country the best water solutions and the team will continuously experiment new innovations they can offer and take the company to the international platform years to come. "Even at present, we are using the most advanced technology in the world for purifying and bottling natural drinking water and we are using new marketing strategies that have never been used in Sri Lanka by any other company in this field," he added.
Established in 2003, Speed Water Systems (Pvt) Limited is a wholly-owned Sri Lankan company. Guaranteed to conform to the highest international quality standards, the company's bottled water products are marketed under the brand name 'SPEED'. Speed Water has earned plaudits as a company which introduced innovative, state-of-the-art know-how and technology and new marketing strategies to the bottled water industry.
The company's client portfolio includes government and private institutions and households of diverse categories. In other words, Speed water is supplied to a wide section of the masses. Speed bottled water is available in 500 ml, 1000 ml, 1500 ml, 5000ml pet bottles and the large 19 liter bottles. The company also markets Oxygenated Water, Ice Cubes, Packeted Water and Dispensers.
Speed water systems is the mother company of speed group of company. Sritrims, Speed Auto Care and Speed Motors are other companies of the Speed Group.