---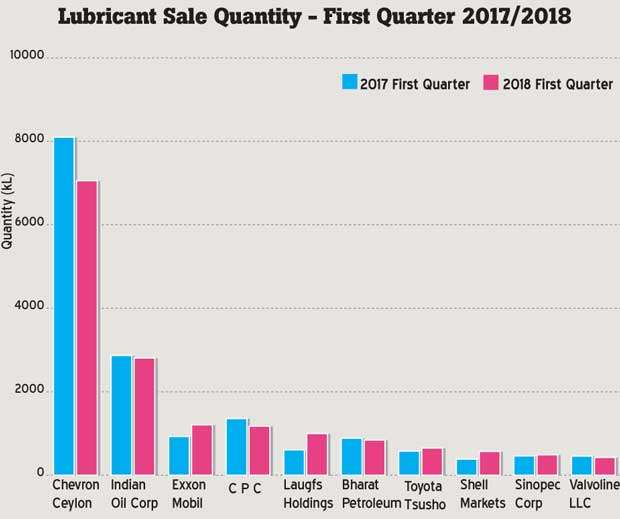 New entrants and relatively established players are seen gaining traction in Sri Lanka's lubricant landscape and eating into the share of the market leader, the data released by the Public Utilities Commission of Sri Lanka (PUCSL), the shadow regulator of the lubricants industry, showed.

Sri Lanka's lubricant market leader, Chevron Lubricants Lanka PLC, saw its market share coming down to 41.88 percent by the end of the first quarter of 2018 from 46.87 percent a year ago.
Indian Oil Corporation Limited, operating through its local subsidiary, Lanka IOC PLC, was able to retain its market share at 16.67 percent being the second largest player in the market.

ExxonMobil, the third largest player in the market, increased its share to 7.17 percent from 5.36 percent a year earlier.

The State-owned Ceylon Petroleum Corporation saw its market share coming down to 6.98 percent from 7.86 percent a year ago.

Laugfs Lubricants, a more recent entrant to the crowded lube market, has also increased its market share to 5.93 percent from 3.51 percent. Laugfs Lubricants remains the fifth largest player. Meanwhile, Sri Lanka's overall lube market has shrunk to 16,843 kilo litres during the first quarter compared to the 17,278 kilo litres sold during the same quarter in 2017.

The slight fall in the overall volumes could be attributed to the relative slowdown in vehicle imports during the first quarter of this year compared to the first quarter of 2017.

Another major buyer of lubricants is the country's power generation segment, specially the thermal power sector. During 2016 and 2017, Sri Lanka generated bulk of its energy from thermal power due to poor rainfall in the catchment areas.

Further, the slowdown in industrial sector activities in line with the slowdown in the overall economic growth could also be a contributing factor.
Sri Lanka has an estimated 65,000 kilo litre lubricant market.

The government is briskly going ahead with plans to liberalise the lubricant market as stated in a budget proposal. Bids have already been called from interested parties who want to import and sell lubricant.