---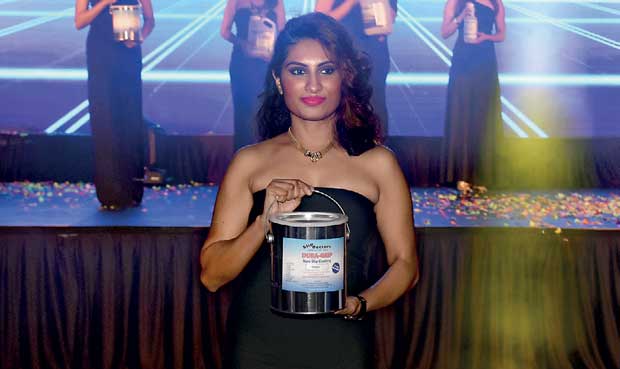 Seen here the seven anti-slip products of SlipDoctors being officially presented to the Sri Lankan market.
Pic By Kushan Pathiraja
By Supun Dias
SlipDoctors, the world's number one manufacturer of anti-slip products based in United States entered the Sri Lankan market by partnering with Creation Master Builders (PVT) Ltd.
SlipDoctors offers the widest range of traction improvement products found in the industry. By developing the most effective and safest solutions to improve traction on any surface it help prevent slip-fall accidents in your home, bathtub, shower, kitchen, restaurant, hotel, or anywhere.
Seven new products were introduced to the Sri Lankan market at the launch ceremony which was held at the Cinnamon Grand recently. Namely ; Polish Grip – penetrating sealer, Deck O Grip – water based polymer, Floor Grip – scratch resistant and anti-slip urethane sealer, Dura Grip – easy to apply water based epoxy coating, Max Grip – traction enhancing treatment, Tuff Grip – high traction urethane coating and Stone Treatment System – floor cleaner to prepare dirty, greasy and waxed floors. Managing Director of Creation Master Builders Rohan Visidagama said that these products are very important for the booming construction sector in the country. It could be applied mainly at hotels, hospitals and schools where the movement of many people is witnessed on a daily basis. At least 100,000 people become victims of slip falls annually in Sri Lanka and, these accidents could be avoided by applying the best products made available by SlipDoctors.
President of SlipDoctors Greg Cohen said that it is a great opportunity for Sri Lankan customers to apply the best products that would avoid many accidents at your very own business premises. "We have more than 150 products that are being used by over 30,000 customers alone in the United States. We are looking forward to hear the success stories of our Sri Lankan customers after using these products," he said.
The Chief Guest of the event, renowned architect D.H. Wijewardena who is also the Vice President of the Sri Lanka Institute of Architecture said that the anti- slip products launched by SlipDoctors will revolutionize the market the country is building new hotels, hospitals and apartments at a rate, therefore the customers would want to ensure the safety of their clients and stakeholders.
A team from Creation Master Builders has undergone training in the United States on the usage of the product and demonstration skills.